Industrial Wastewater Treatment
Clearwater Industries, Inc. is an industrial wastewater treatment equipment manufacturer and solutions provider.
Clearwater Industries, Inc. manufactures wastewater treatment equipment for industrial wastewater applications.
We provide innovative solutions for wastewater, wastewater reclamation, and water treatment in various industries. Learn how our industrial wastewater treatment products can improve your business.
Remove solids from wastewater
Meet discharge regulations
Cut operating costs
Reclaim water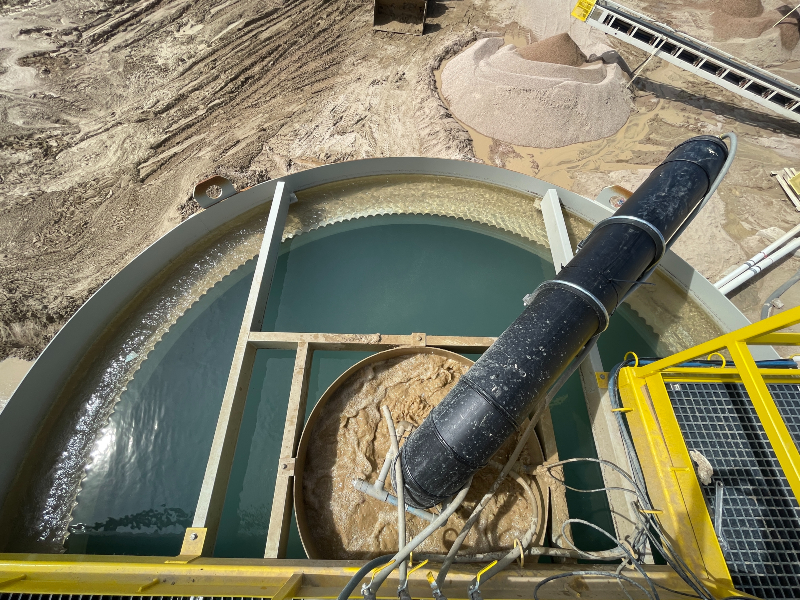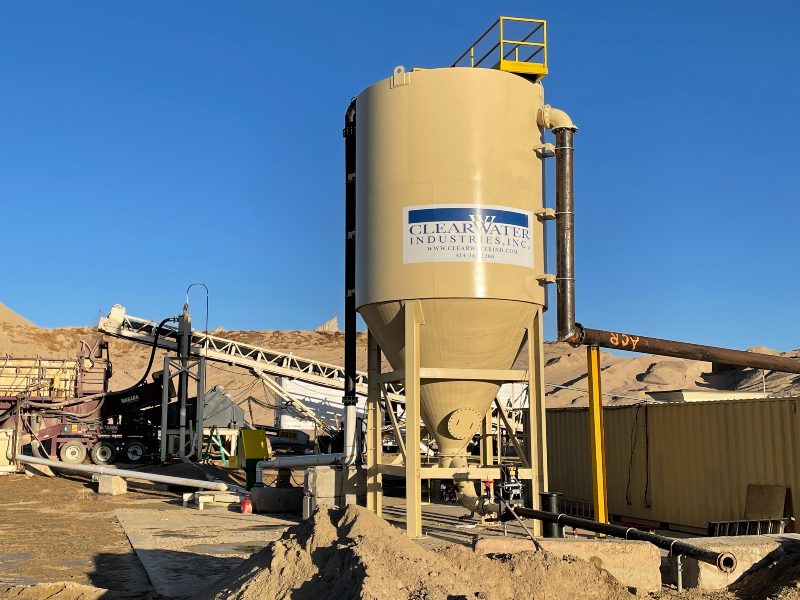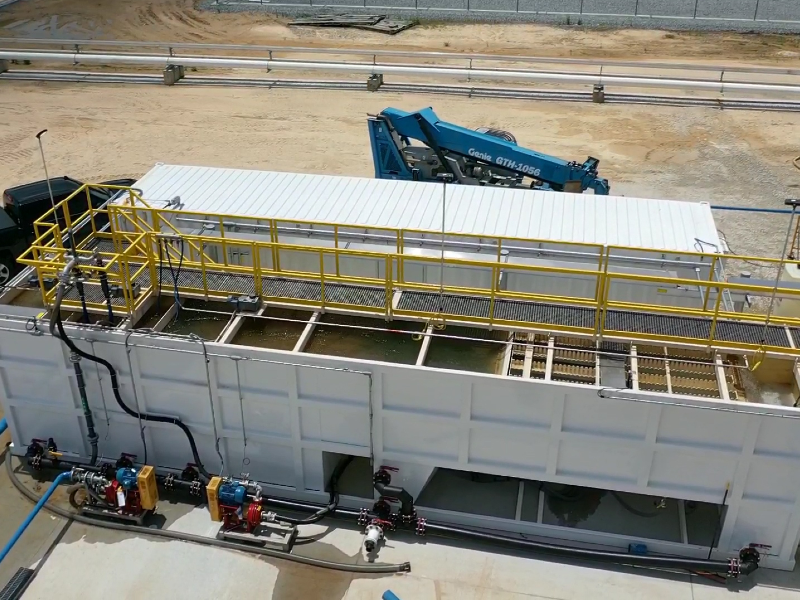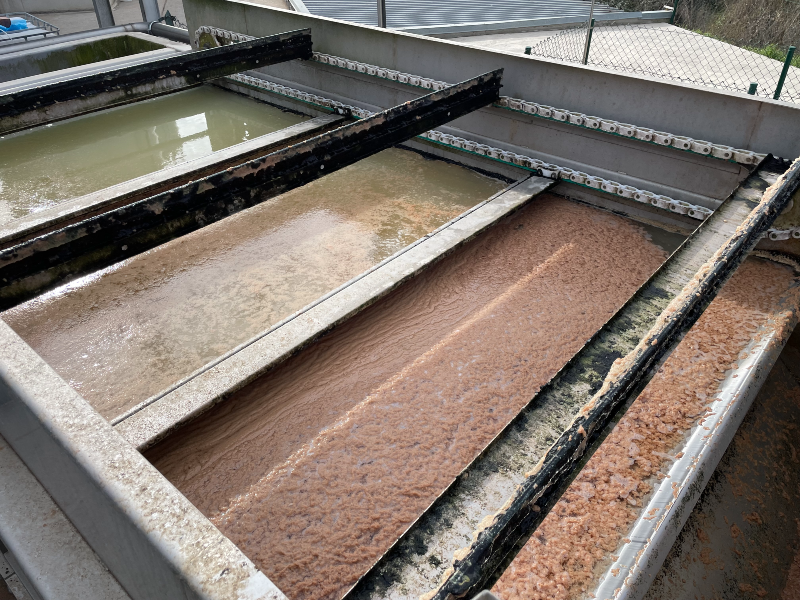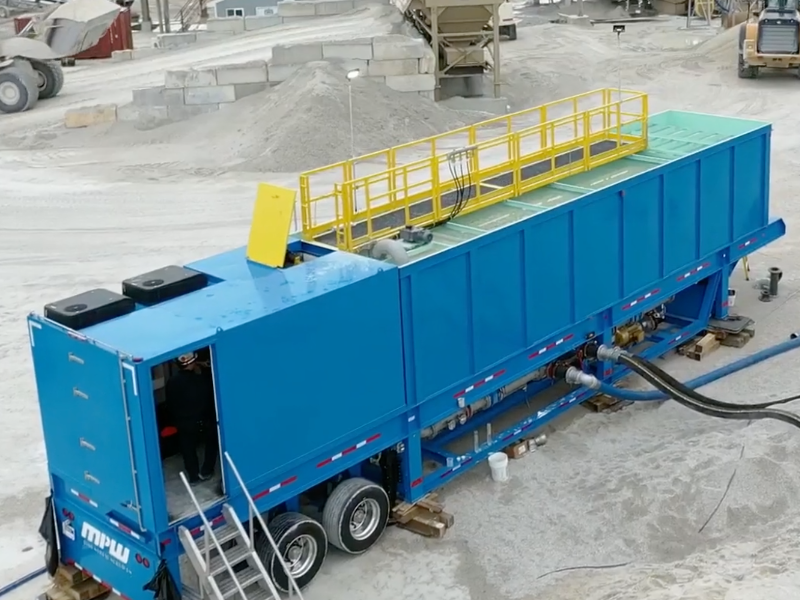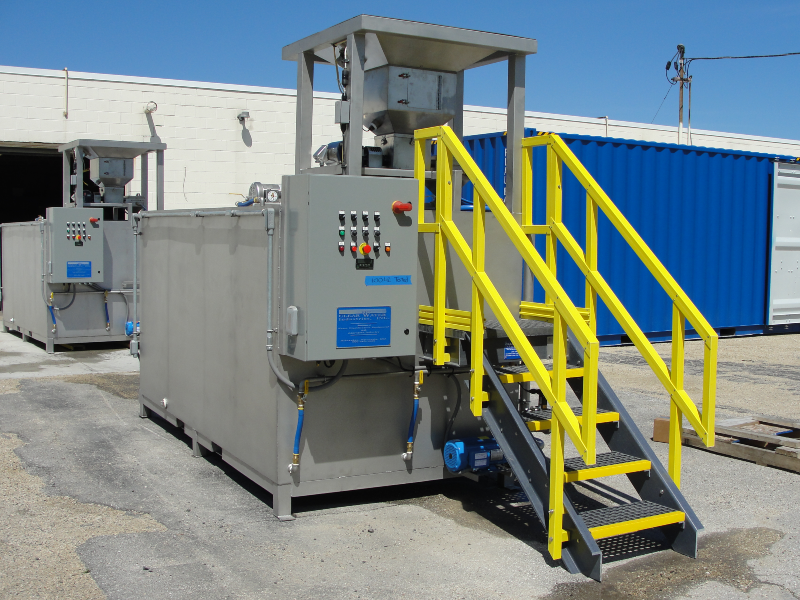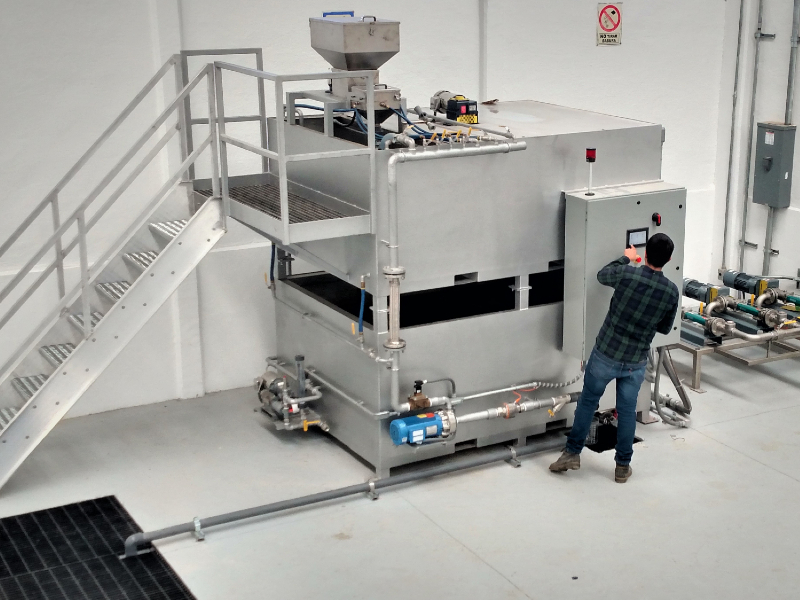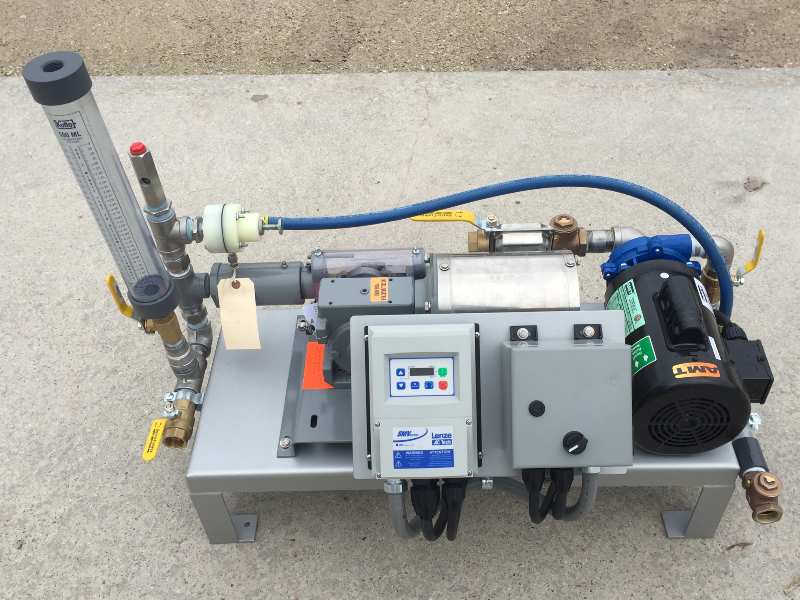 Industrial wastewater is a moving target; no two applications are the same. Clearwater Industries uses its chemical, engineering, and technical experience to custom-design solutions and select stock equipment that fits your needs.
We are a single-point solution provider, from jar testing and chemical selection to commissioning and after-sale service. Our laboratory houses hundreds of wastewater treatment chemicals to find the best physical-chemical treatment solution.
Our equipment includes Chemical Preparation & Feed Systems; Stationary & Portable Clarifiers: Sedimentation, Ballasted Flocculation, Dissolved Air Flotation (DAF); Stationary & Portable Fines Recovery Systems; Process Automation Systems. Clearwater's chemical systems provide solutions for every stage of the industrial water treatment process. Our clarifiers offer primary and secondary treatment for further wastewater purification.
Contact us and our team will work with you to find the right solution for your wastewater application.
LIQUID CHEMICAL FEED SYSTEMS: LQ-SERIES
Polymers
Flocculants
Coagulants
Acids
Bases
Clearwater's stock and custom chemical preparation systems accurately mix and dose and uniform solution. An inline static mixer ensures a consistent chemical solution and durable designs withstand years of harsh working environments.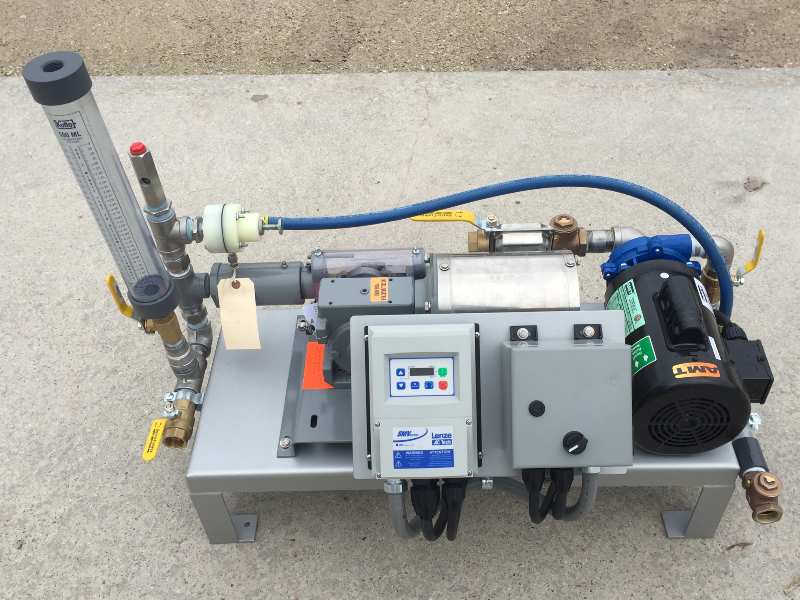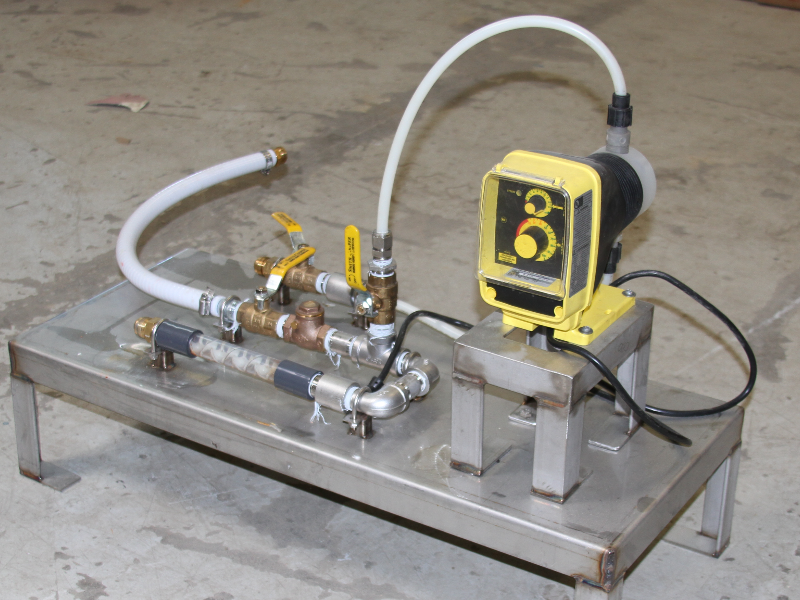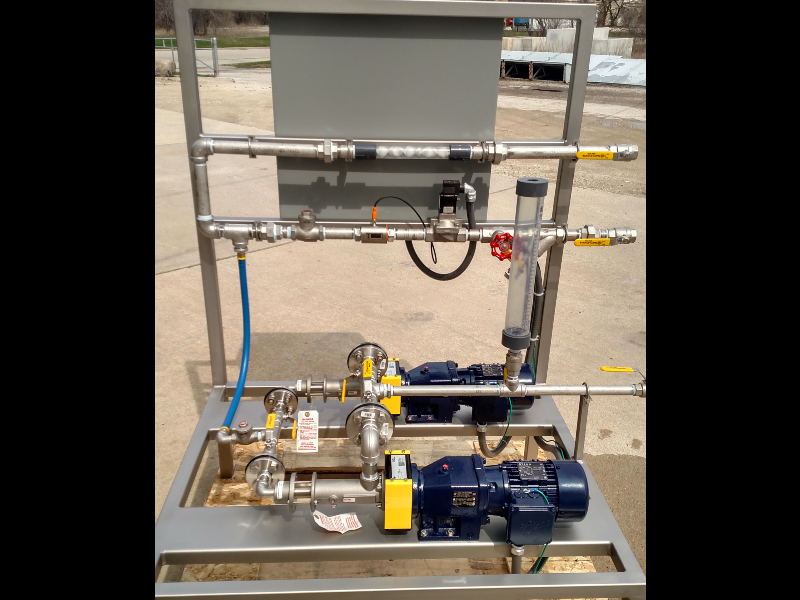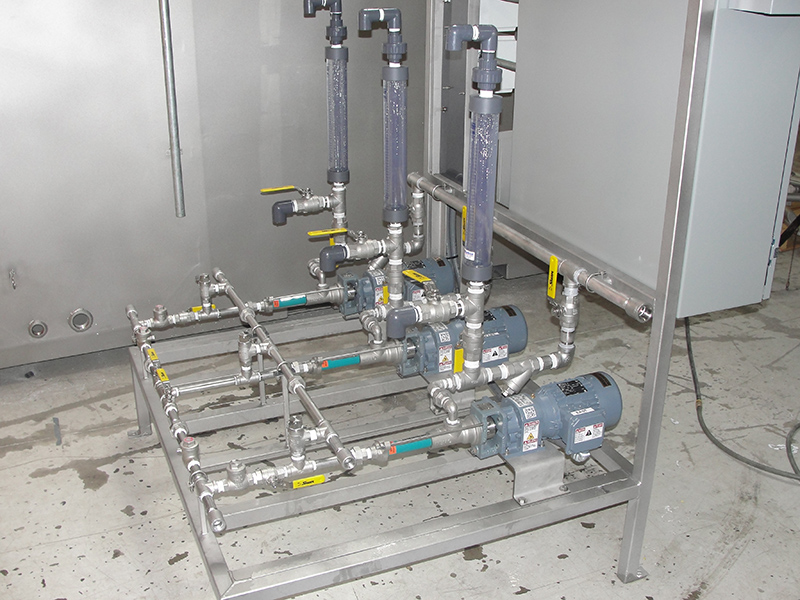 DRY CHEMICAL SYSTEMS: M-SERIES
Polymer Flocculants
Aluminum Sulfate
Bentonite Clay
Citric Acid
More
All M-Series Dry Chemical Feed Systems include a lifetime warranty with the exclusive use of Clearwater's chemical.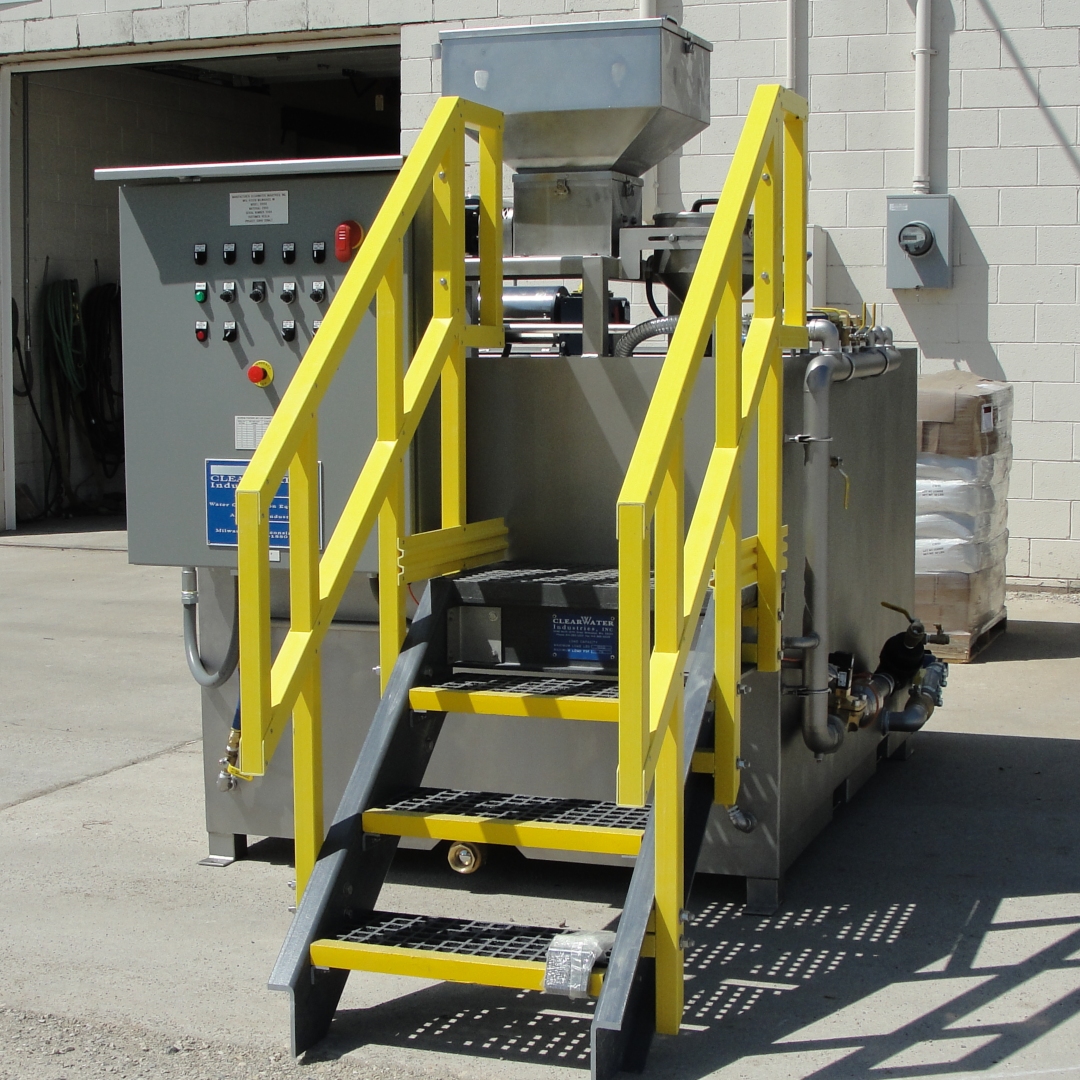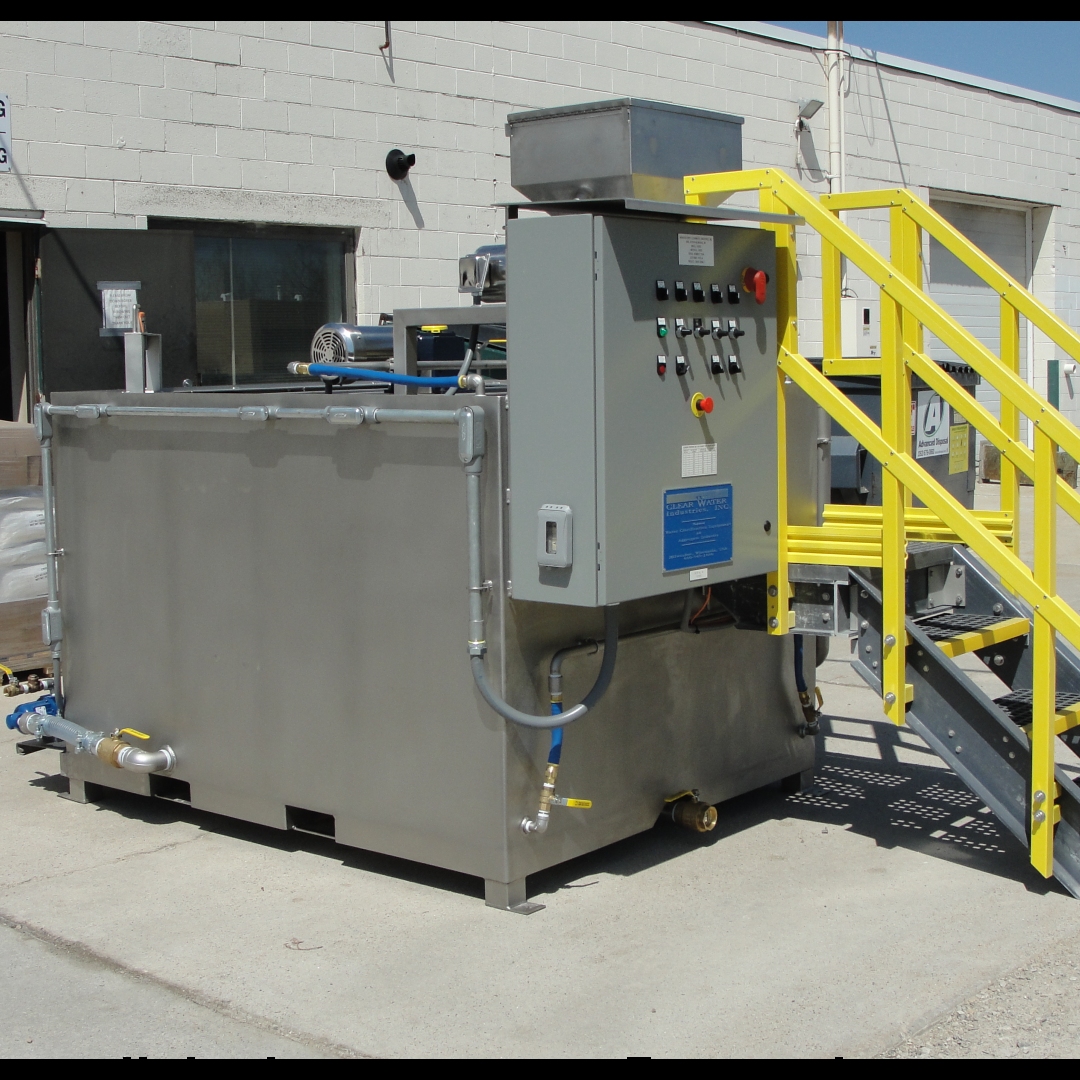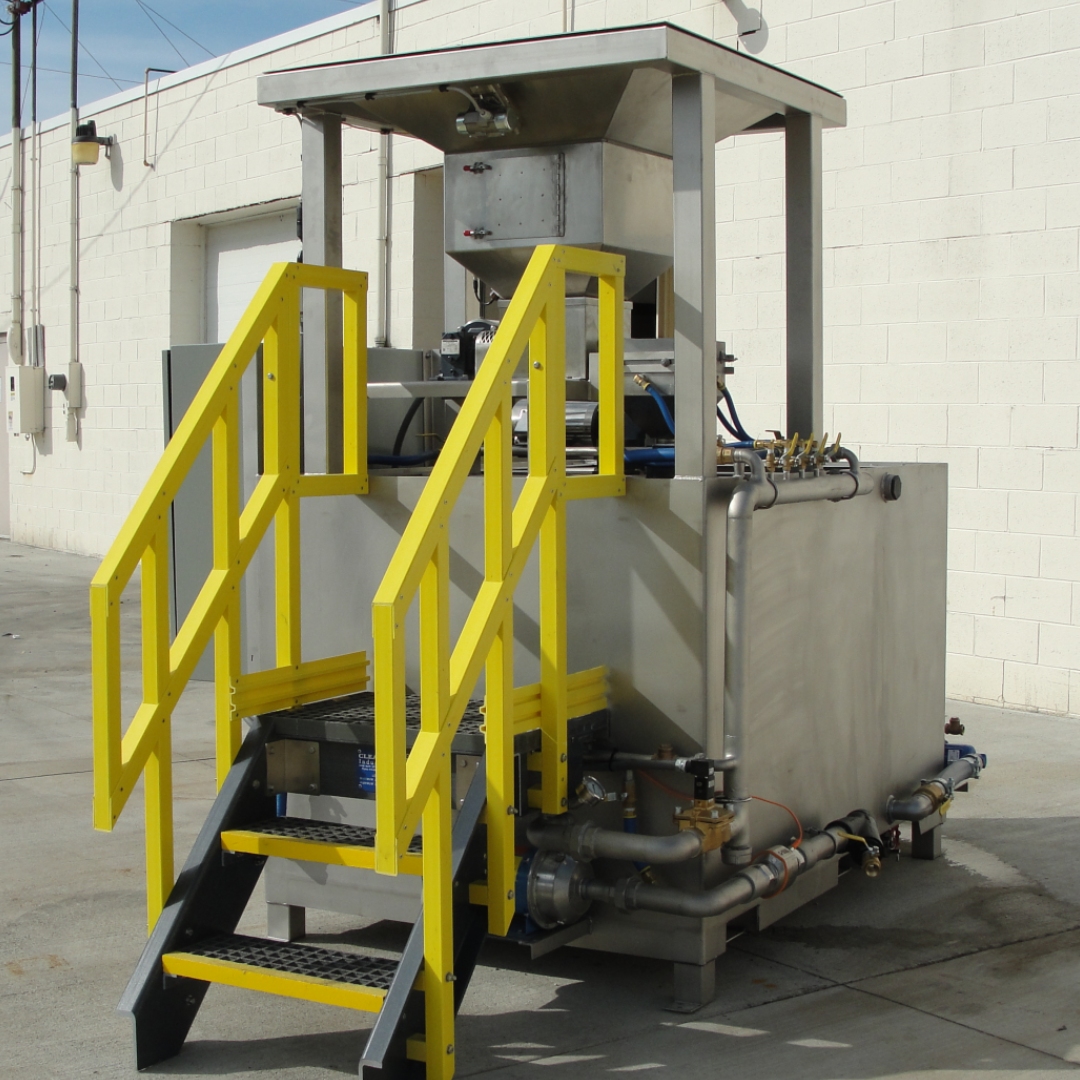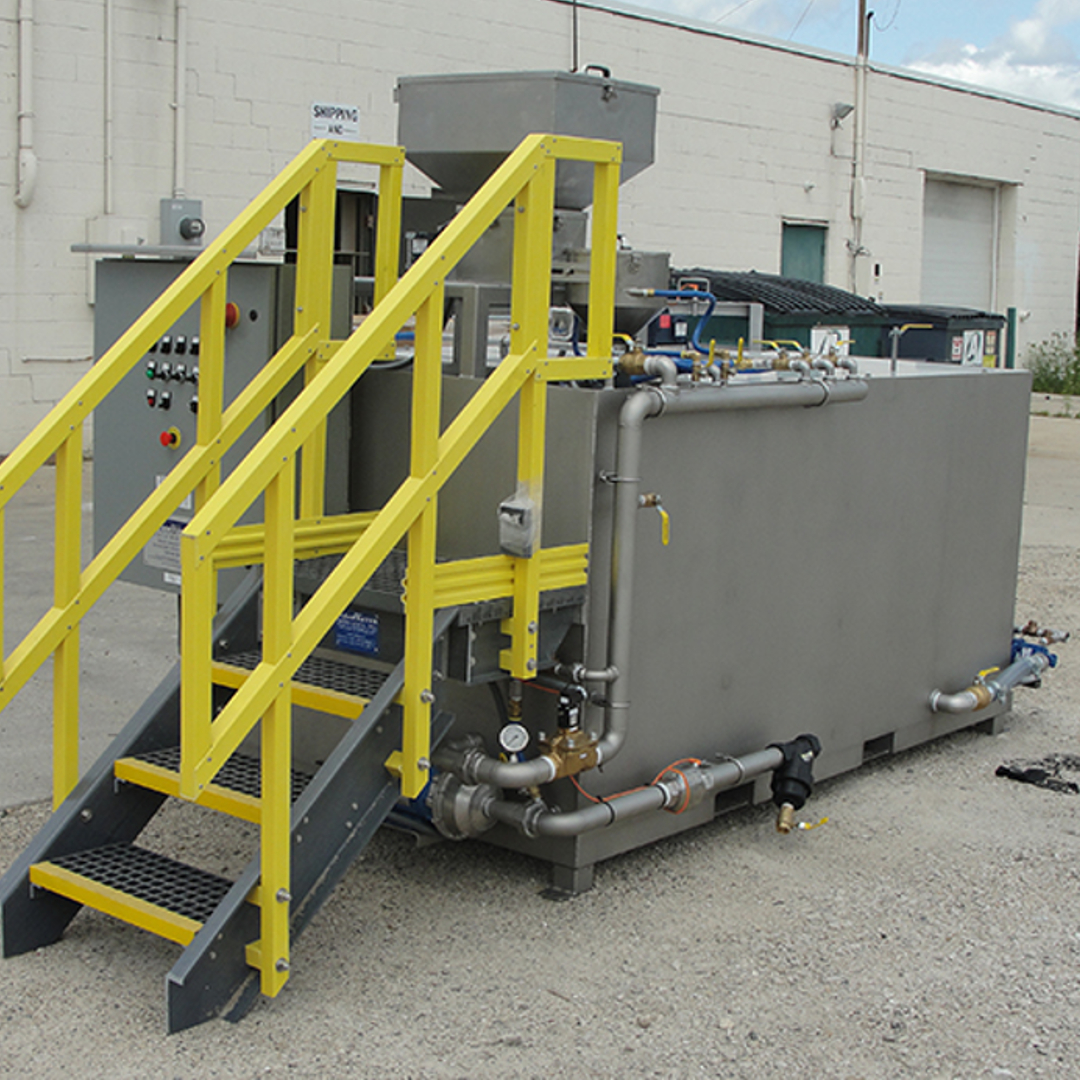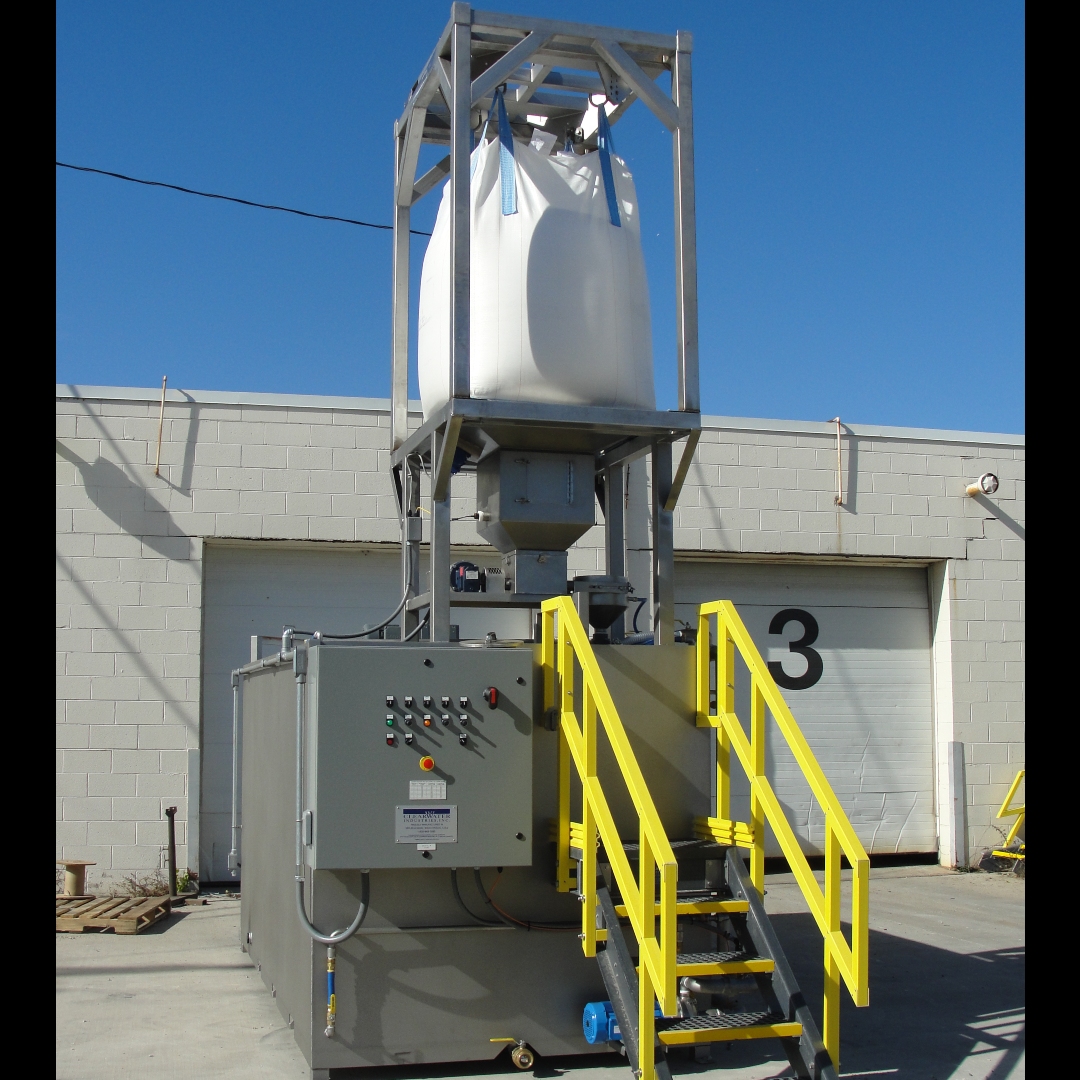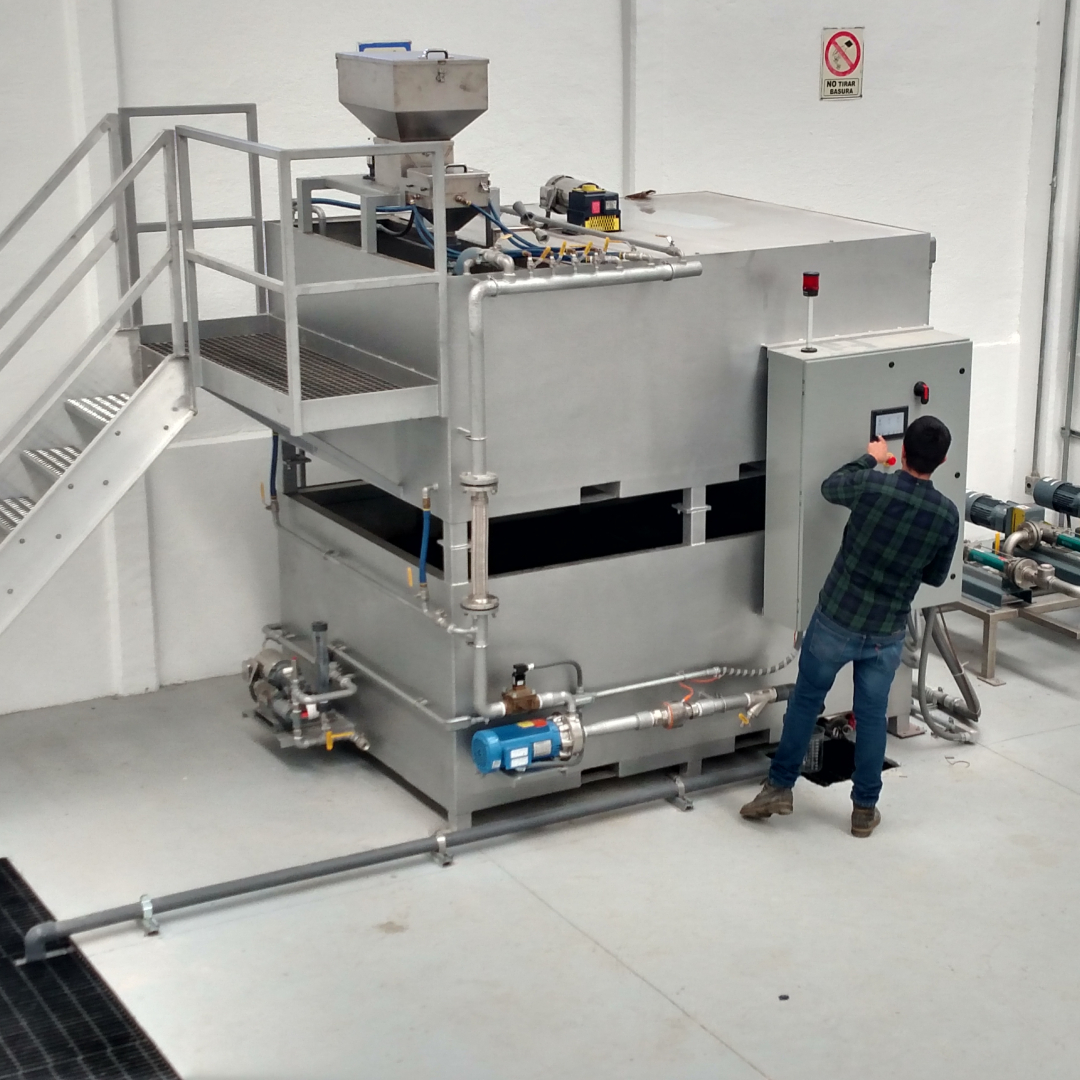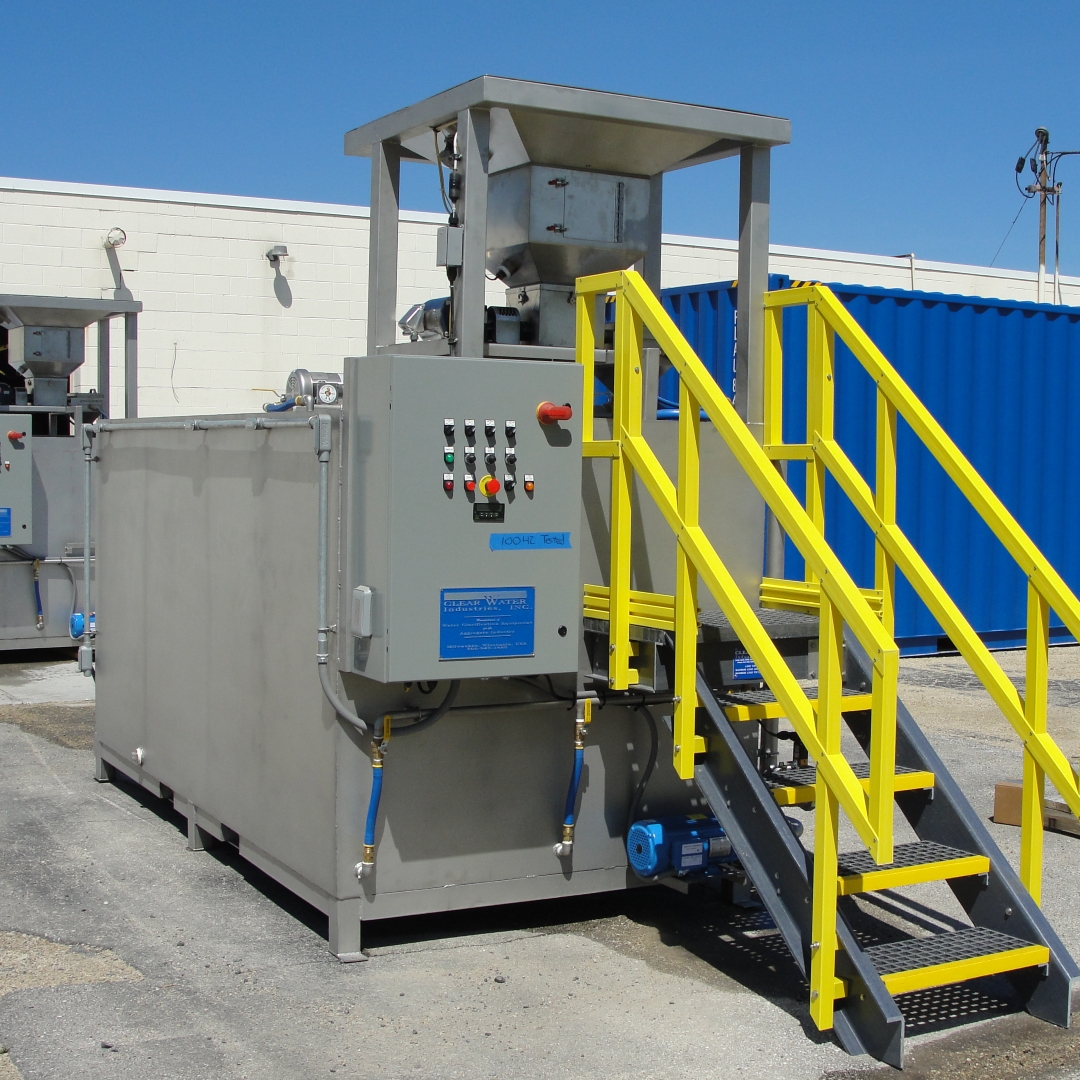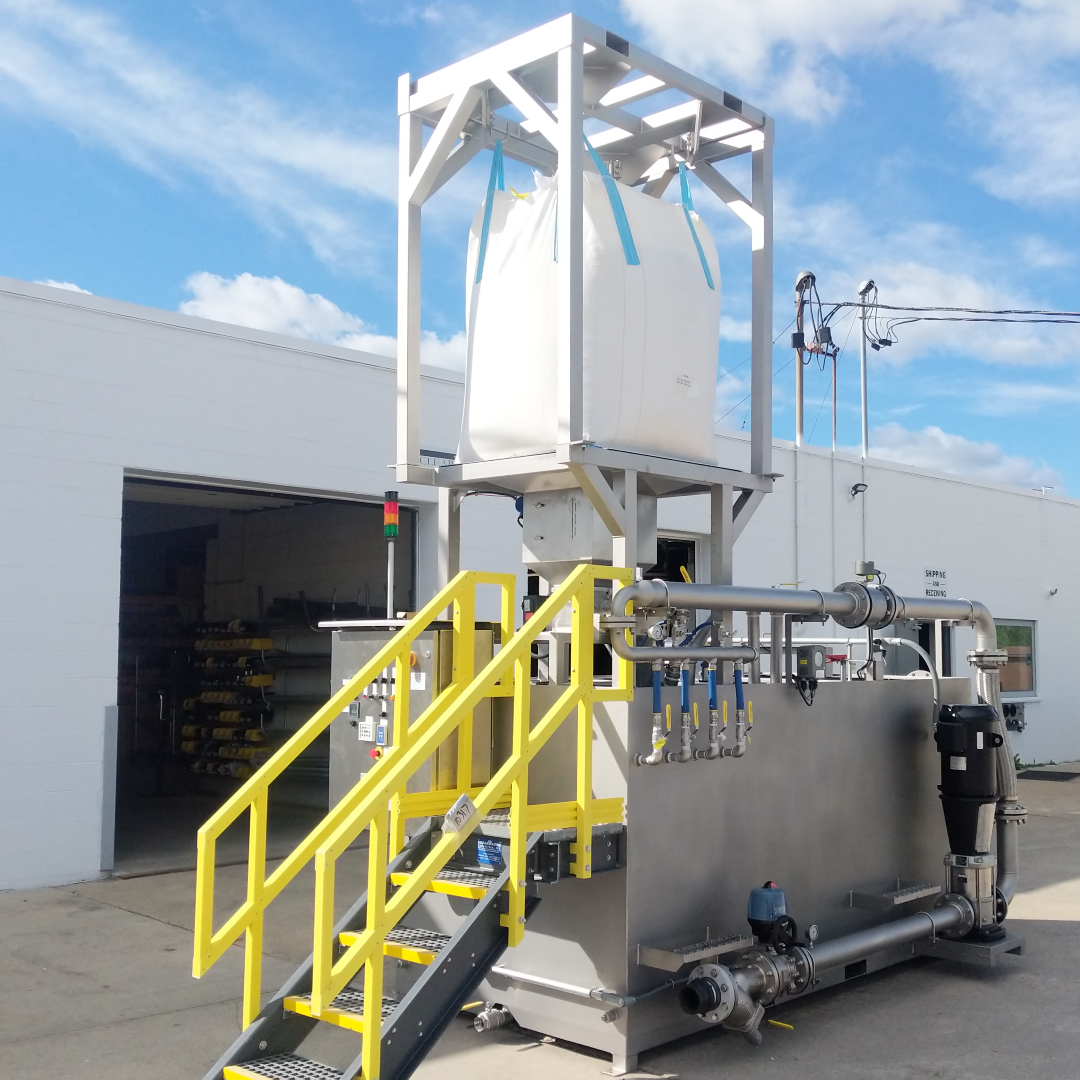 | Model | Solution Flowrate GPM (60 Min. HRT) | Solution Flowrate GPM (90 Min. HRT) |
| --- | --- | --- |
| M100SS | 0-7 | 0-4.6 |
| M300SS | 0-8 | 0-5.5 |
| M500SS | 0-12 | 0-8 |
| M800SS | 0-20 | 0-12.6 |
| M3000SS | 0-38 | 0-25.3 |
| Custom | Any | Any |
Clearwater's dry chemical systems provide accurate preparation and dosing with automated features for minimal operator attention.
Conical Wetting Bowl
Vogel Flow Wet Activation Venturi
304SS Single-Tank Three-Chamber Design
Hydraulic and Mechanical Mixing Energies
Automated Batching
Flowmeter & Powder Screw Feeder FlowPacing for Consistent Solution Strength
Removable Polypropylene Covers
Hand/Off/Auto Controls
CONTAINERIZED CHEMICAL SYSTEMS
Liquid Chemical LQ-Series
Dry Chemical M-Series
Containerized Systems protect chemicals and instruments from harsh weather environments. Keep your operation running in freezing temperatures and extreme heat.
Our standard designs include fire retardant spray foam insulation, HVAC systems, single-point electrical hookup, plumbing, and LED lighting.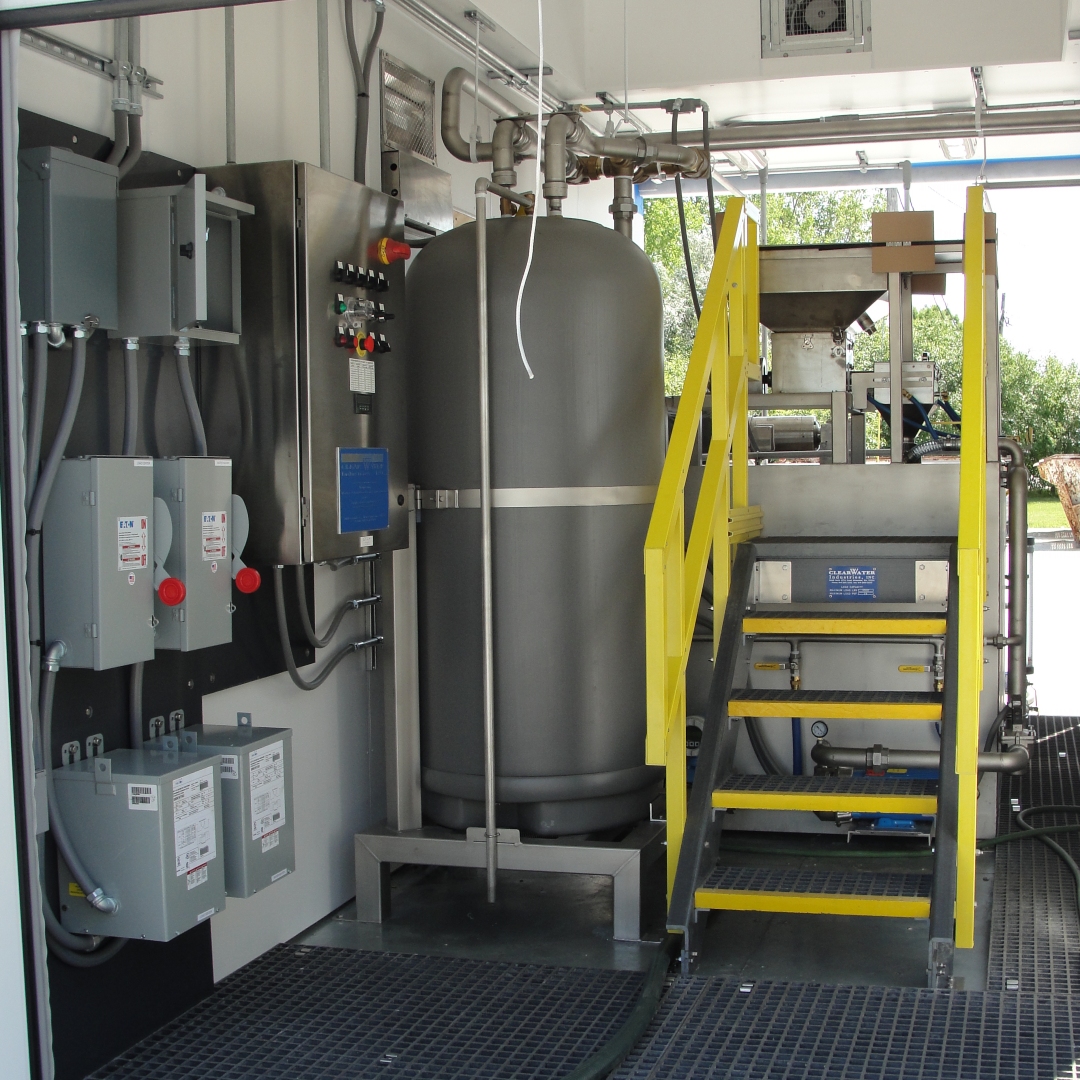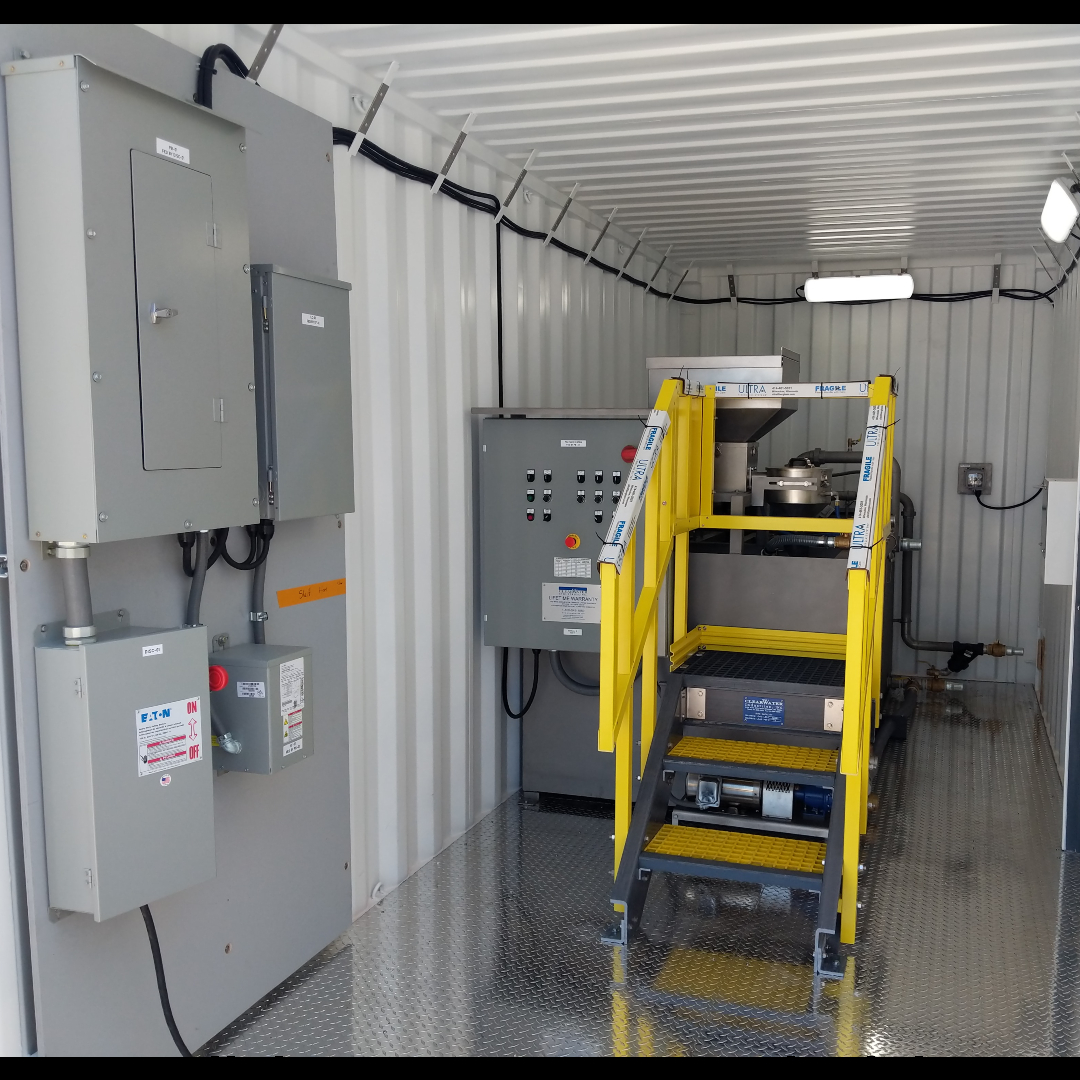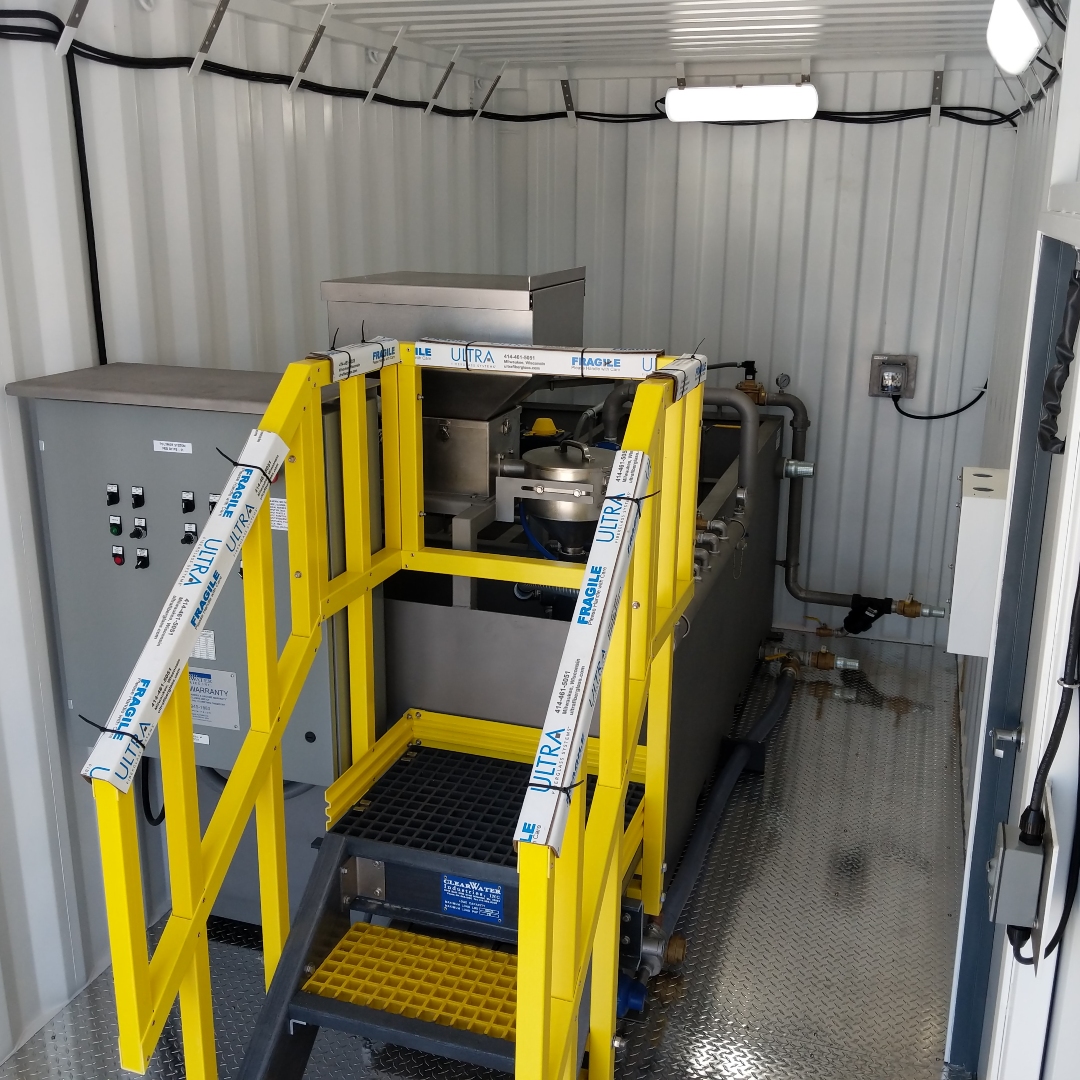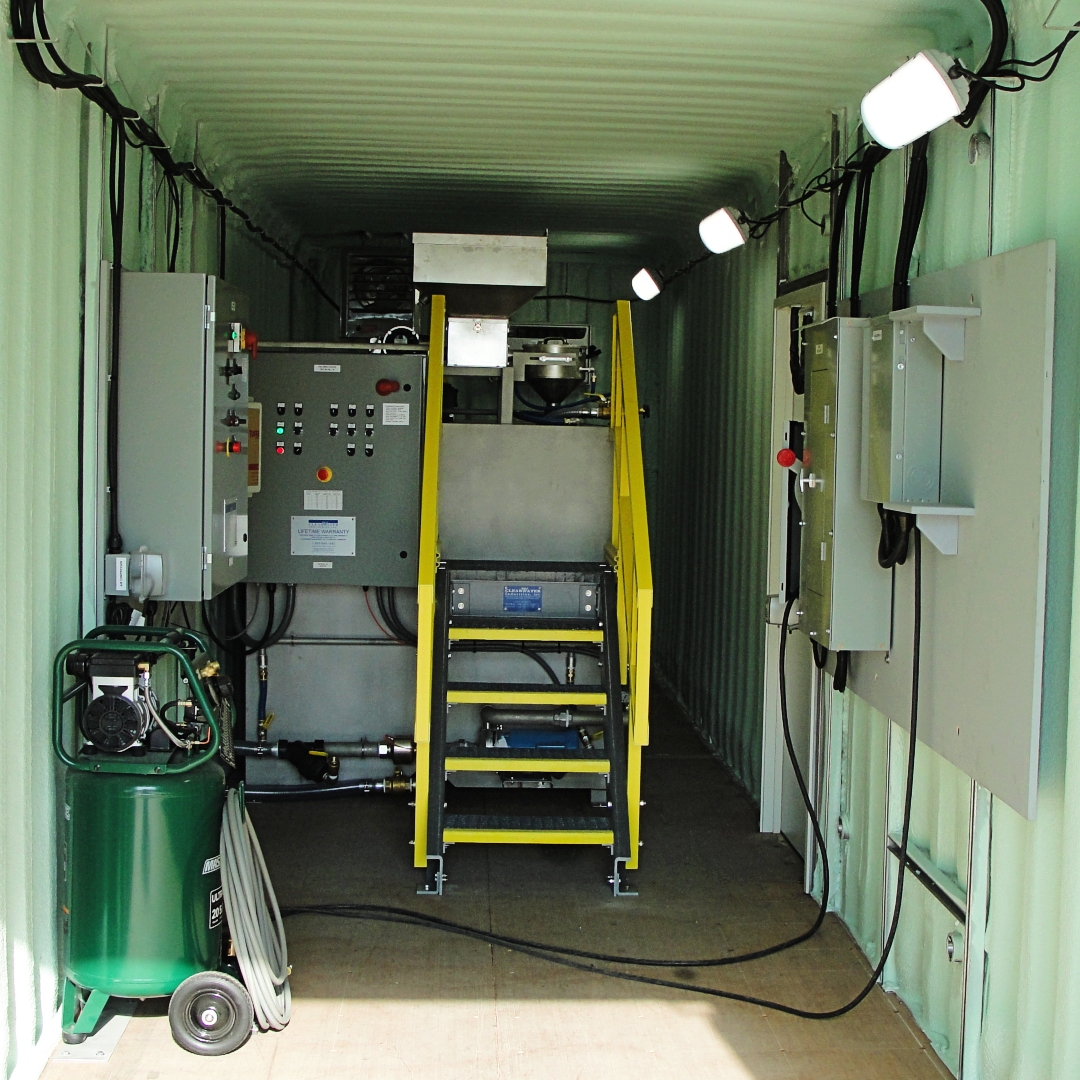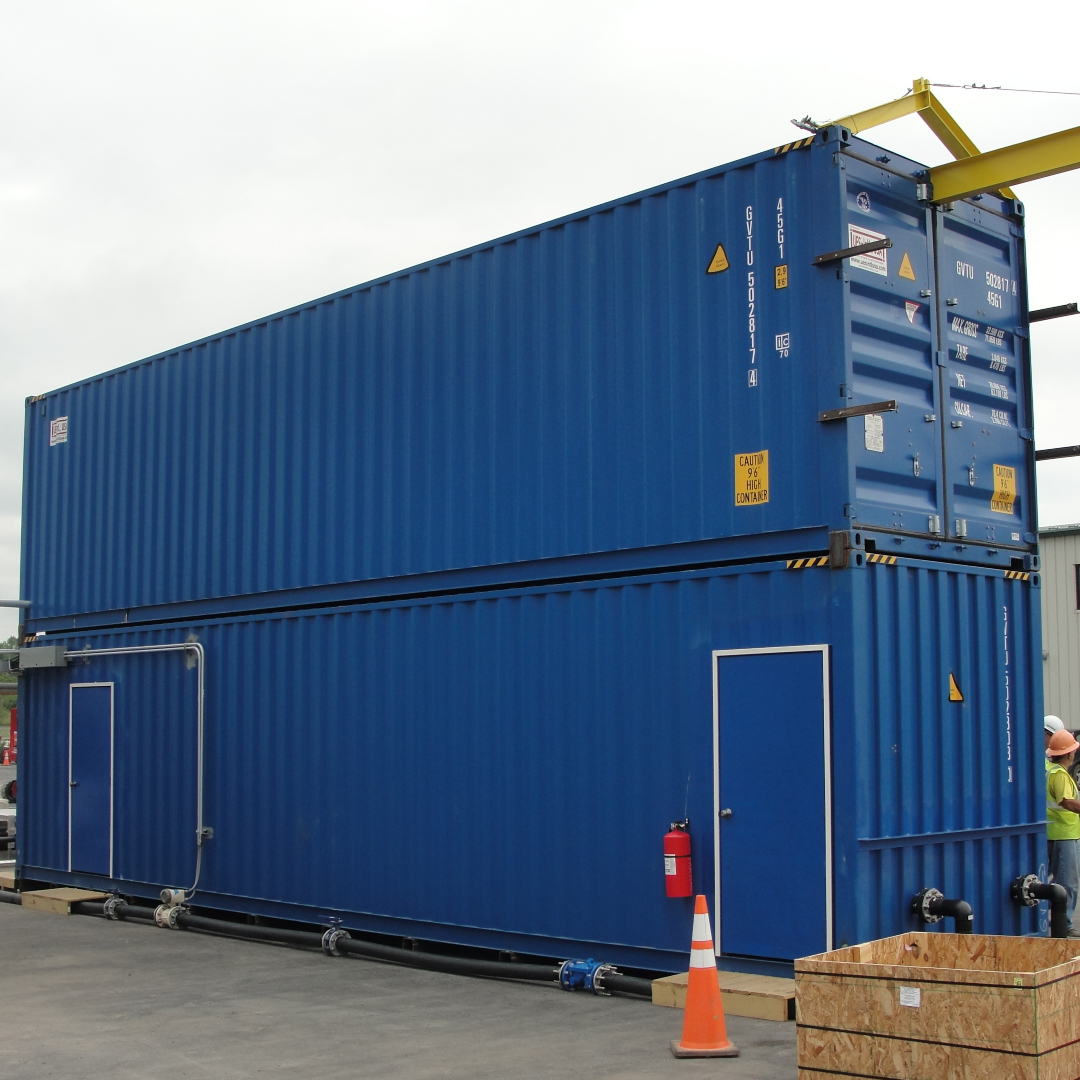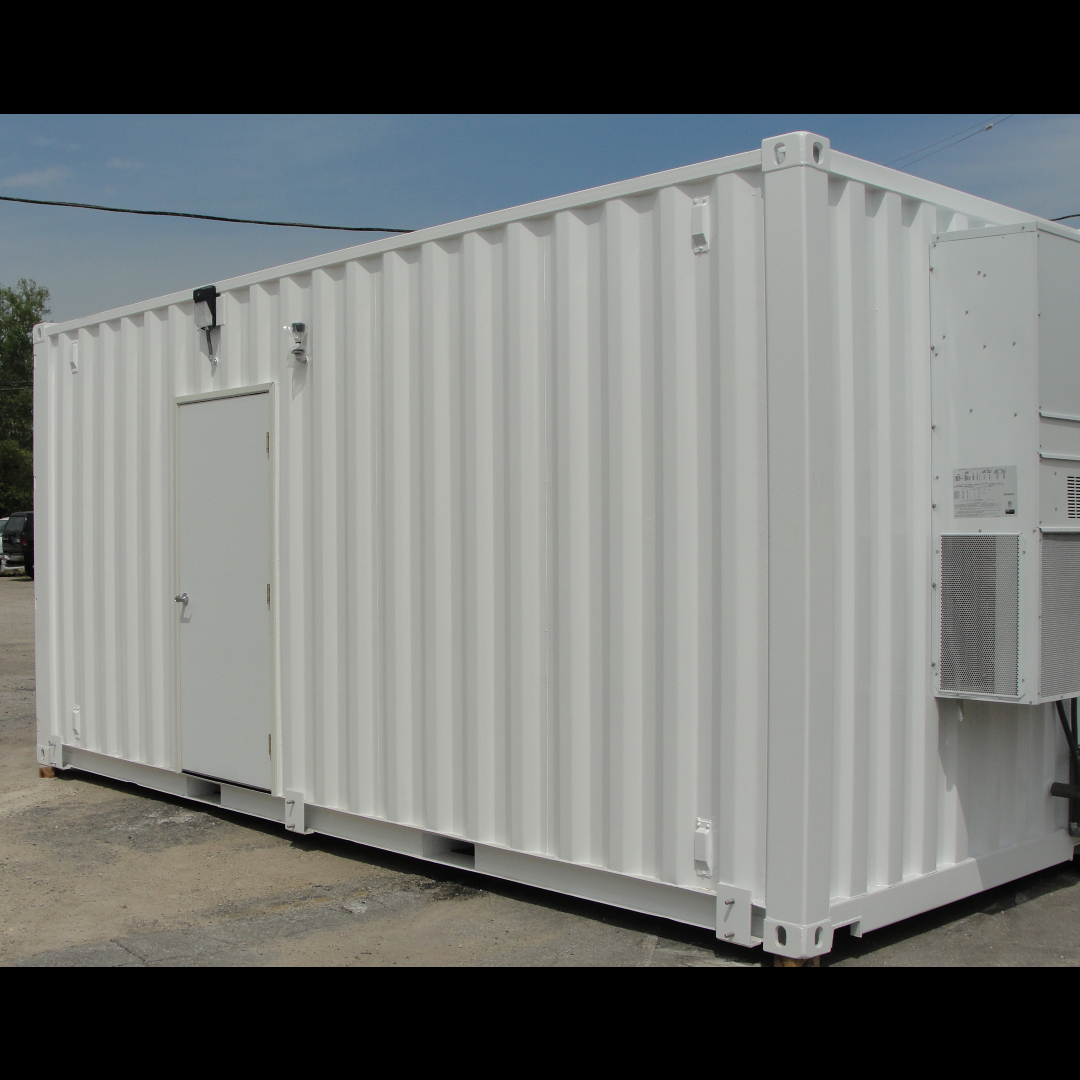 STATIONARY CLARIFIERS
High Compaction Clarifying Thickeners
Horizontal Clarifiers

Traditional Sedimentation
Ballasted Flocculation

Dissolved Air Flotation (DAF) Clarifiers
Wastewater clarification is a mainstay process for solid-liquid separation in the industry. Clearwater's experience in industrial wastewater processing has allowed us to develop a range of clarifiers for different applications. Our stationary clarifiers are renowned for their efficiency, reliability, and innovation. Our High Compaction Clarifying Thickener achieves 50-70% solids by weight.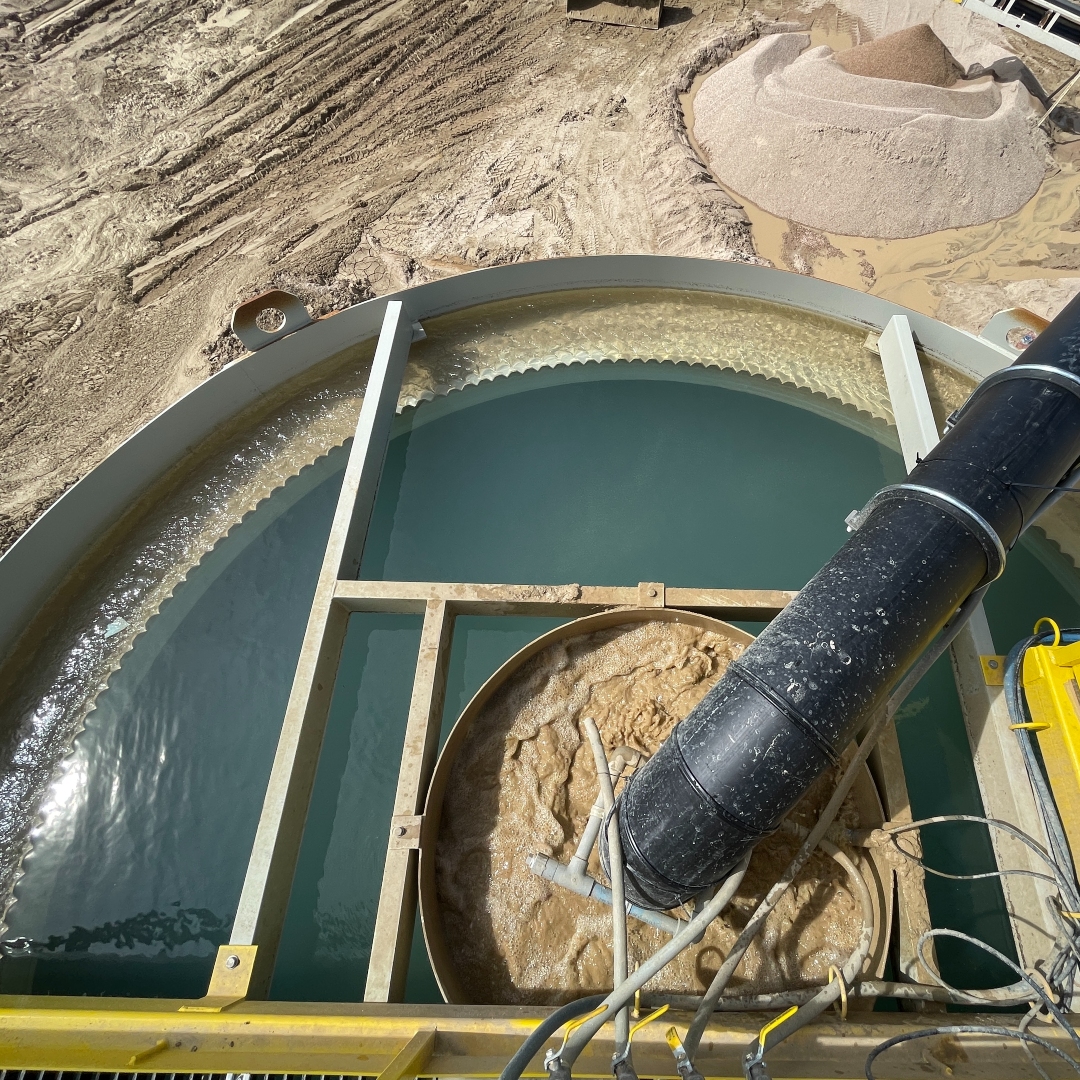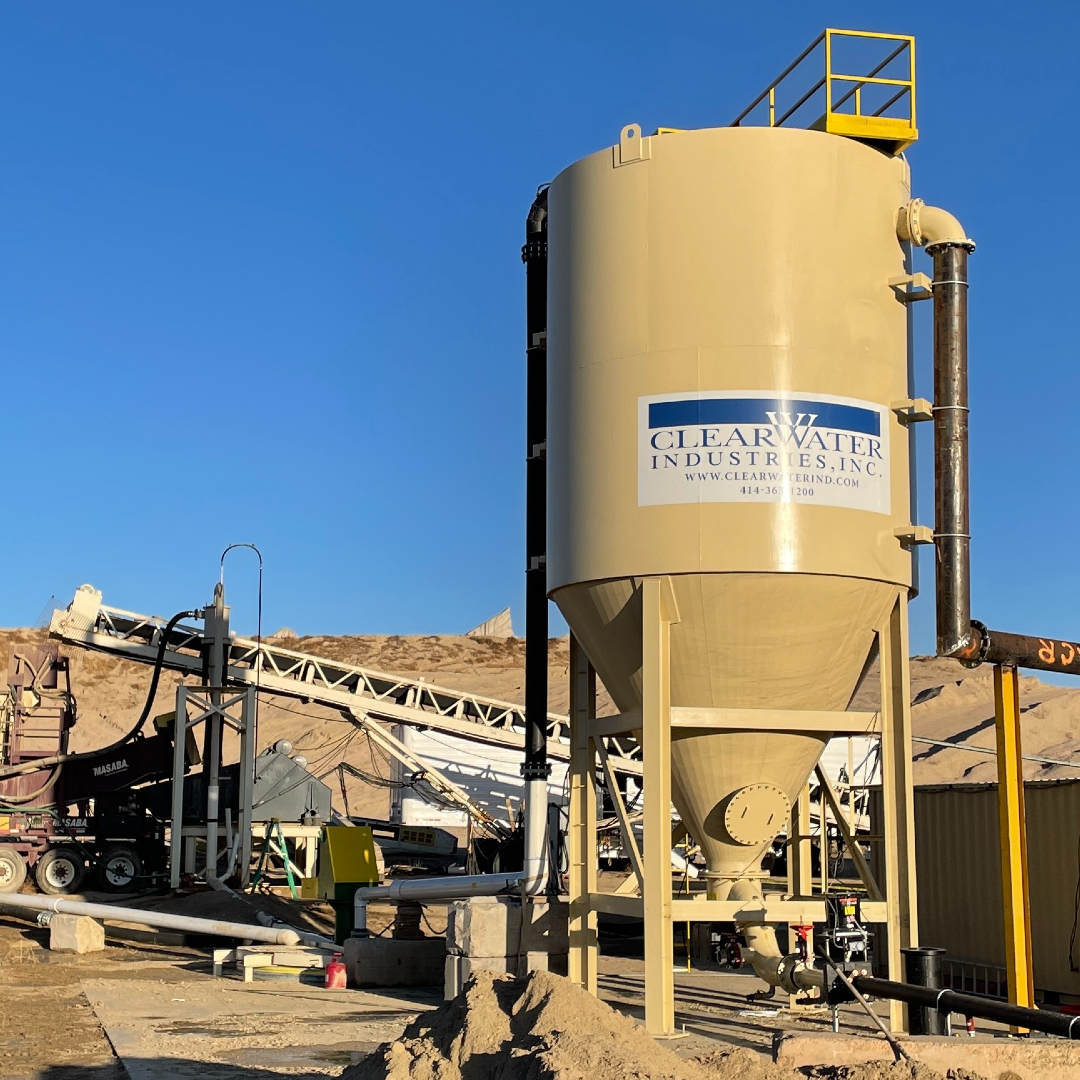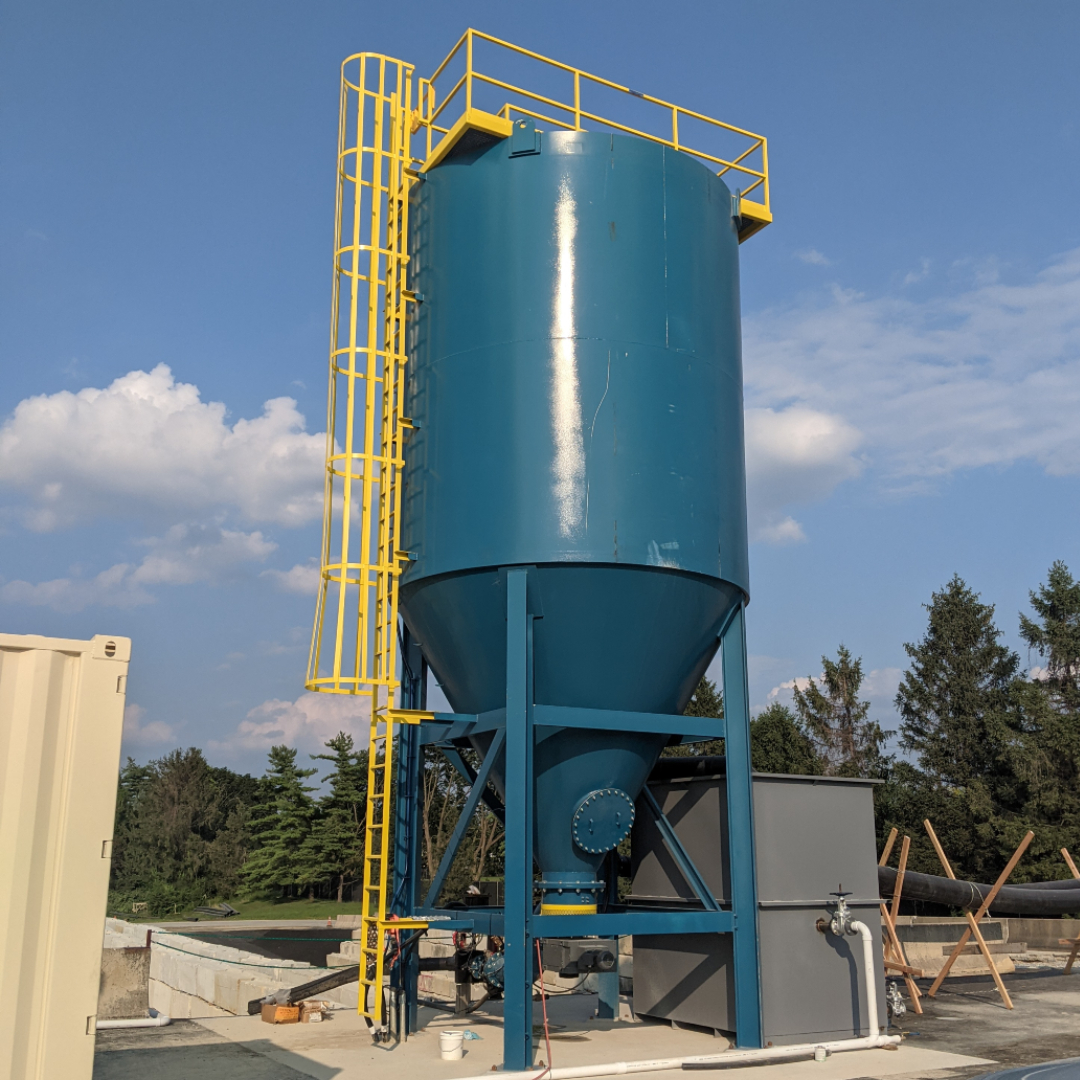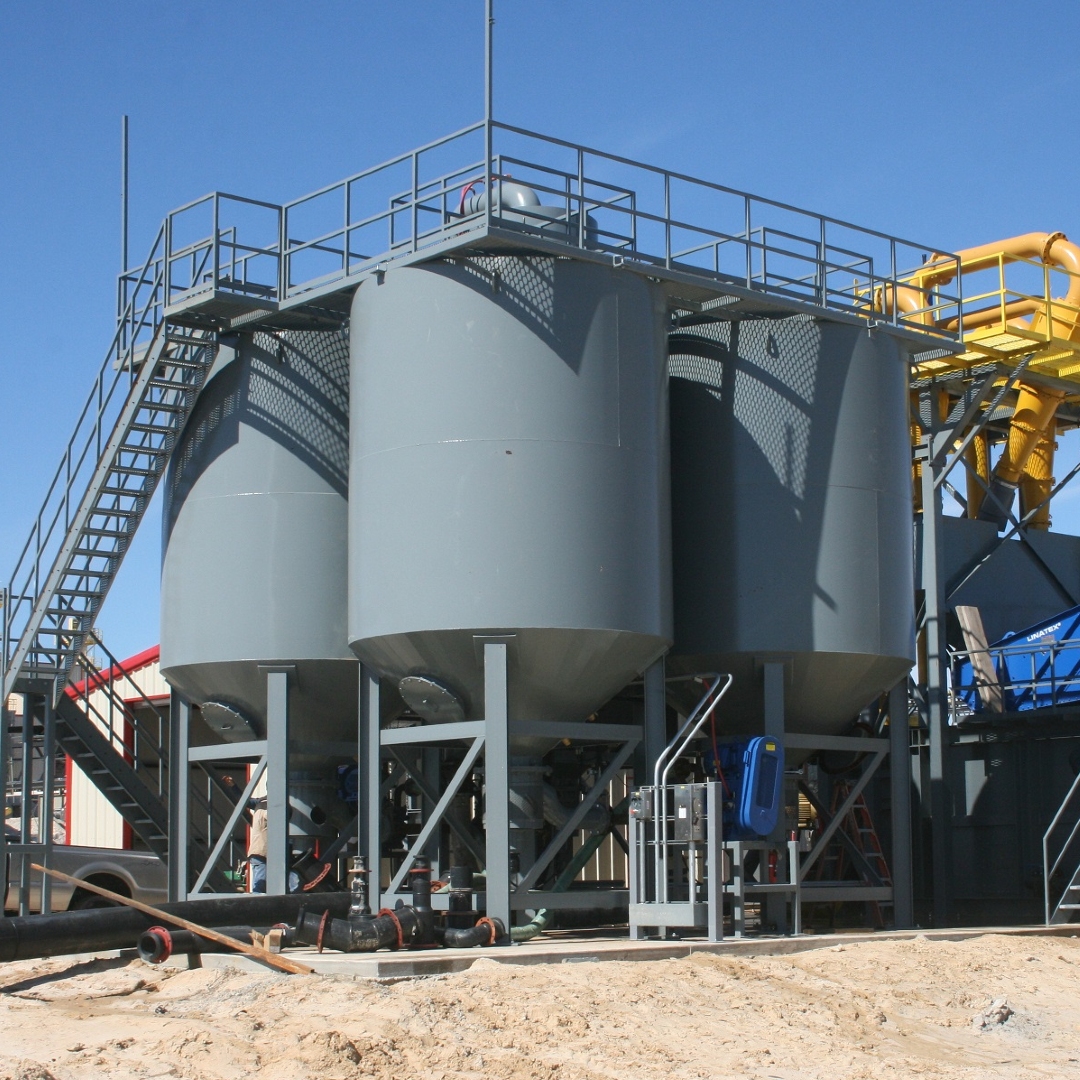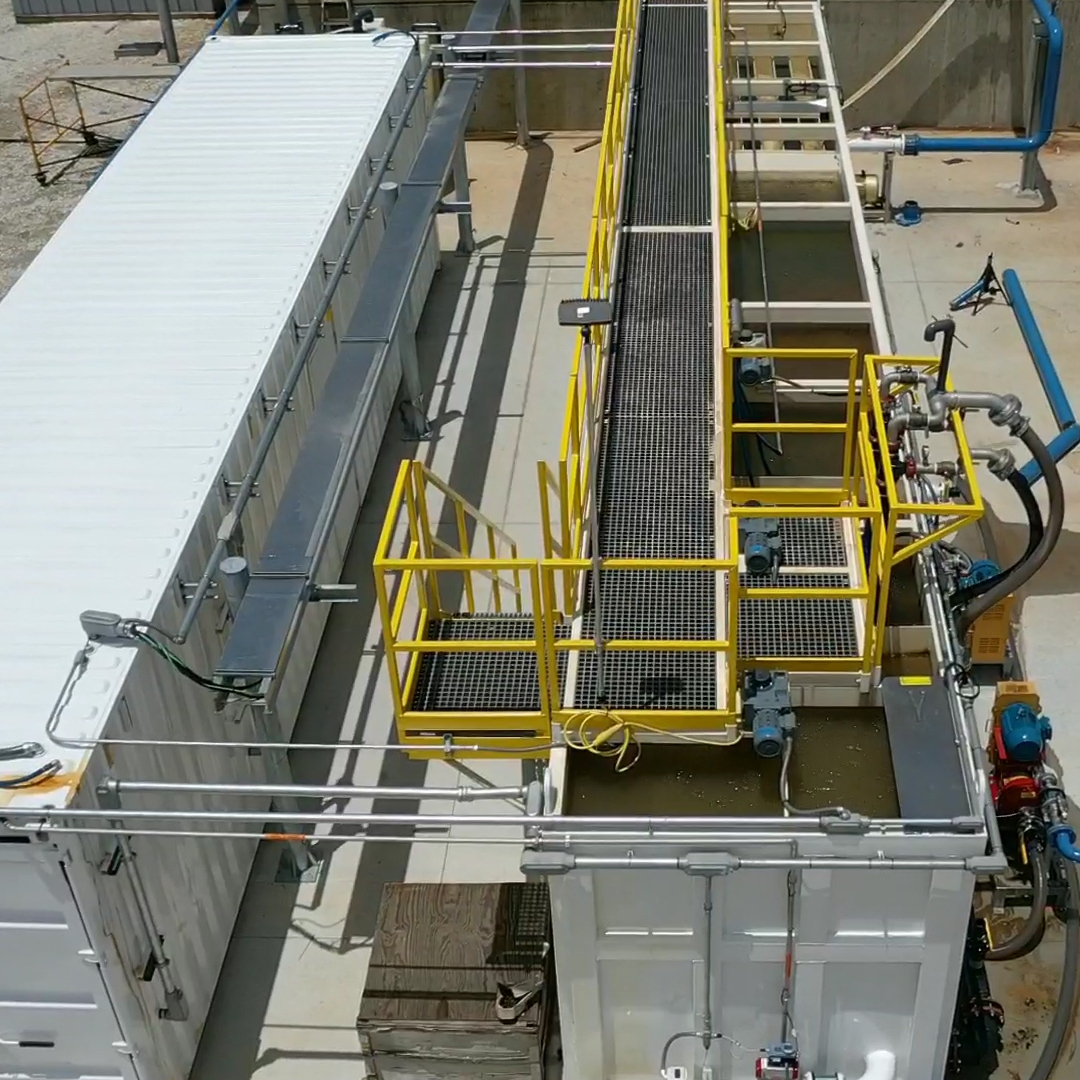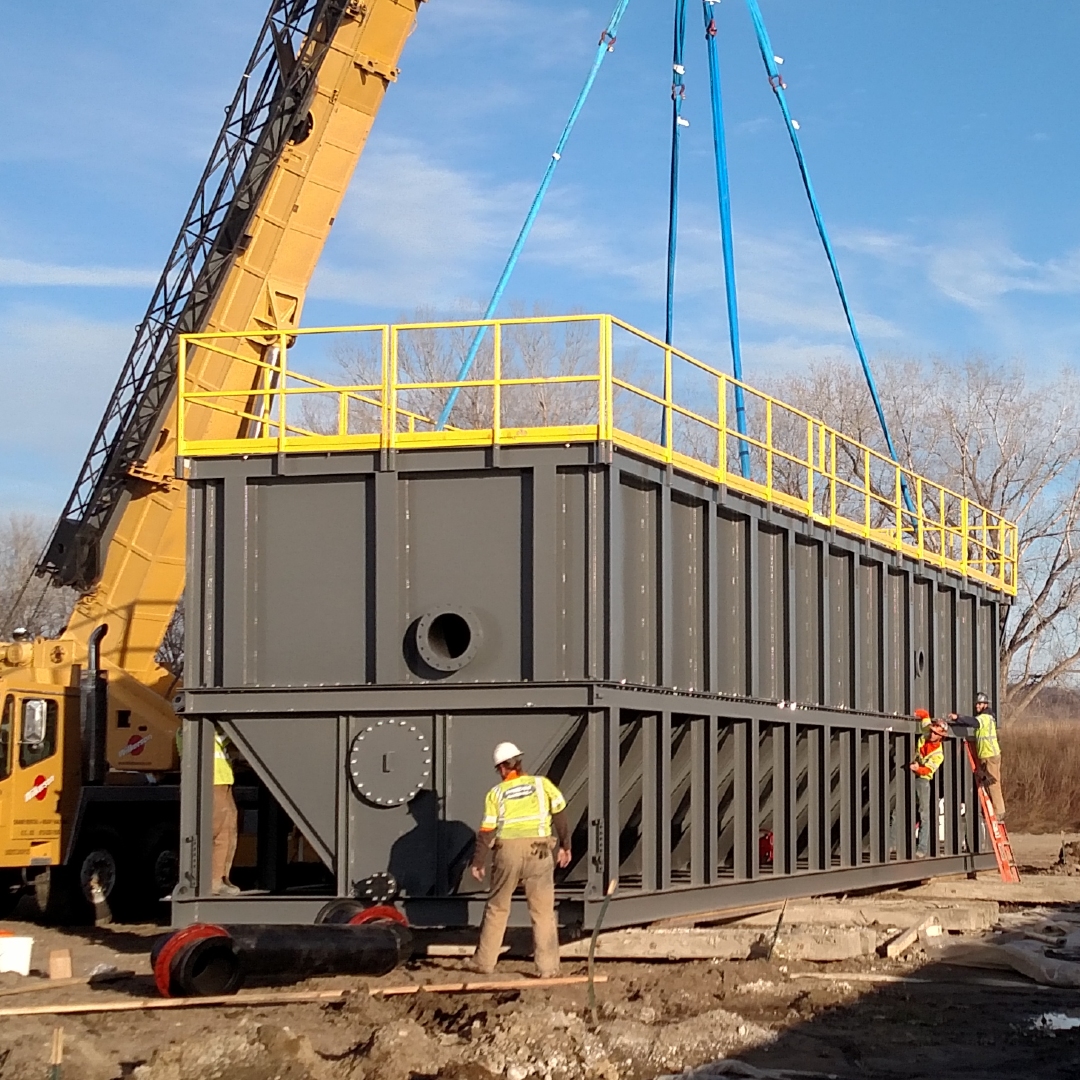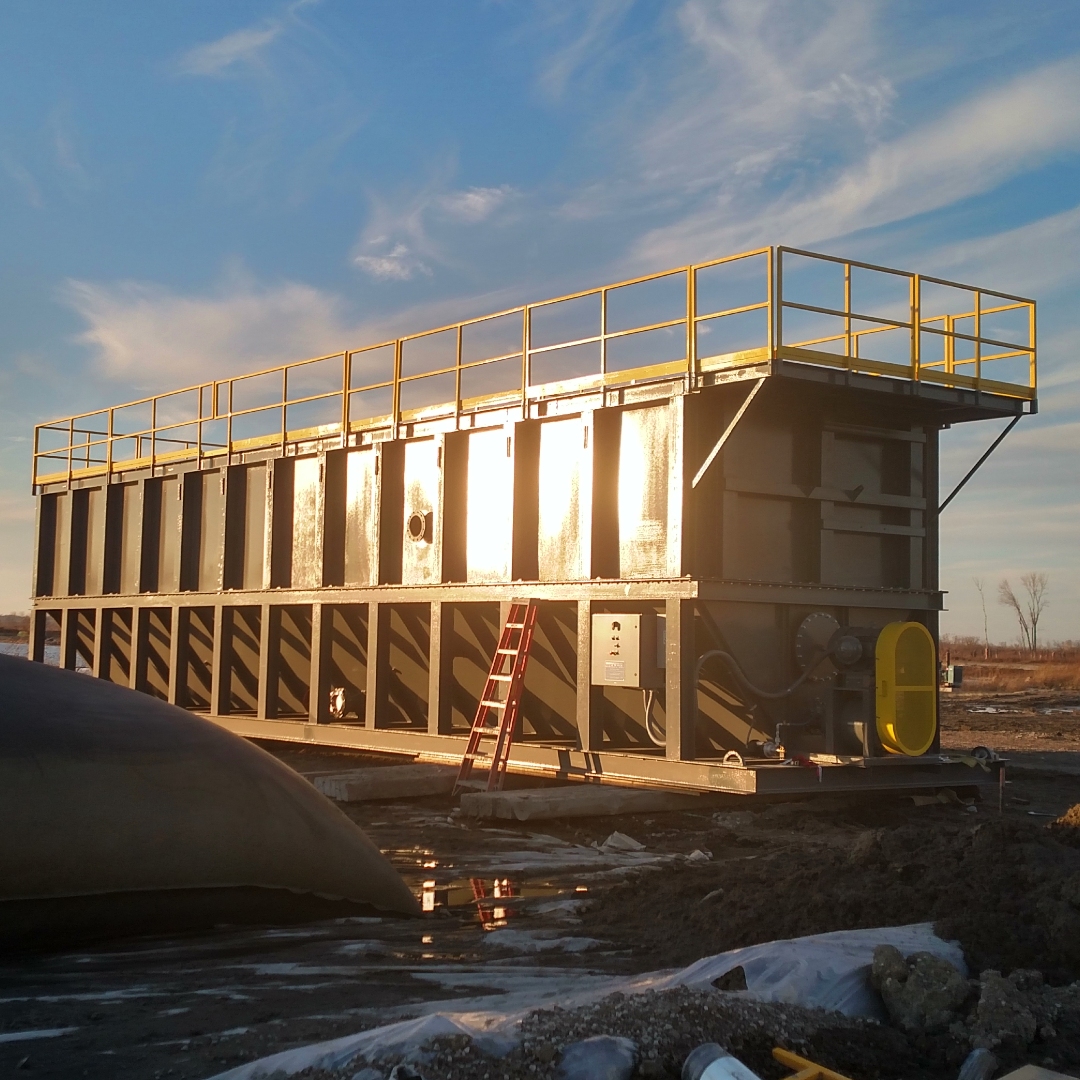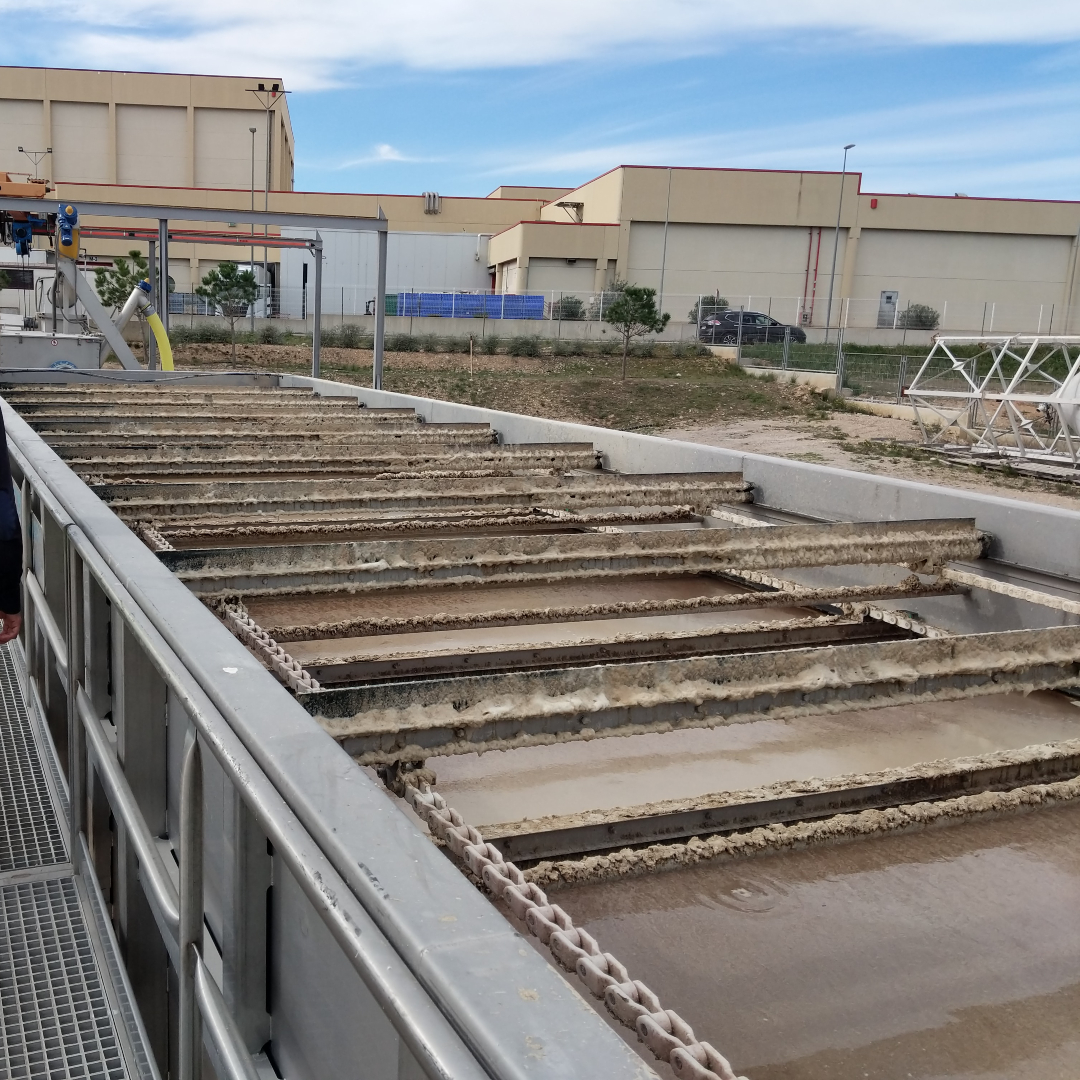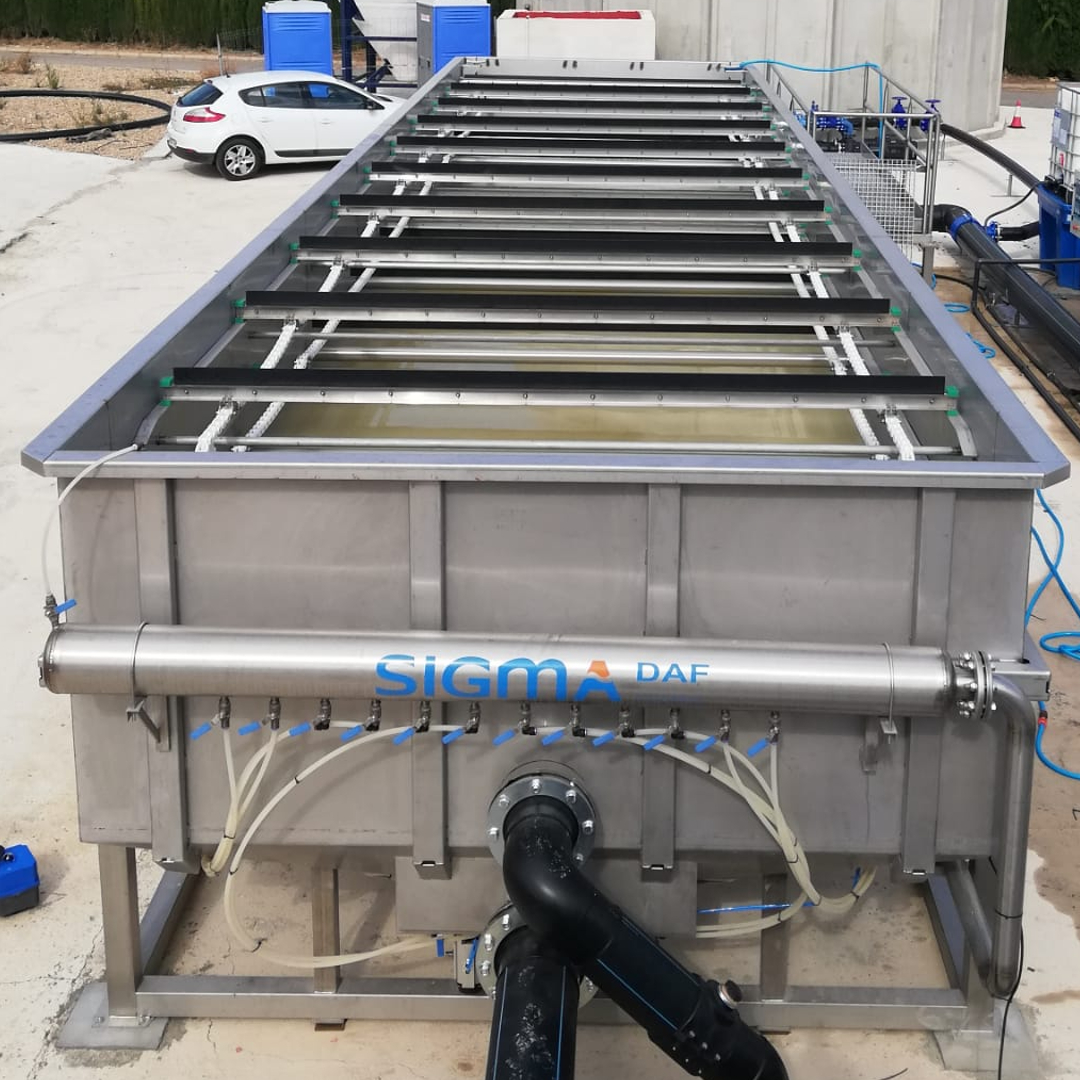 PORTABLE CLARIFIERS
Traditional Sedimentation
Ballasted Flocculation
Clearwater Industries is a pioneer in portable clarification. Our turnkey designs treat 300-2,000 GPM flowrates with 90% water recovery and 30-50% solids by weight sludge discharge. Each unit includes a climate-controlled operator room and integrated chemical feed systems.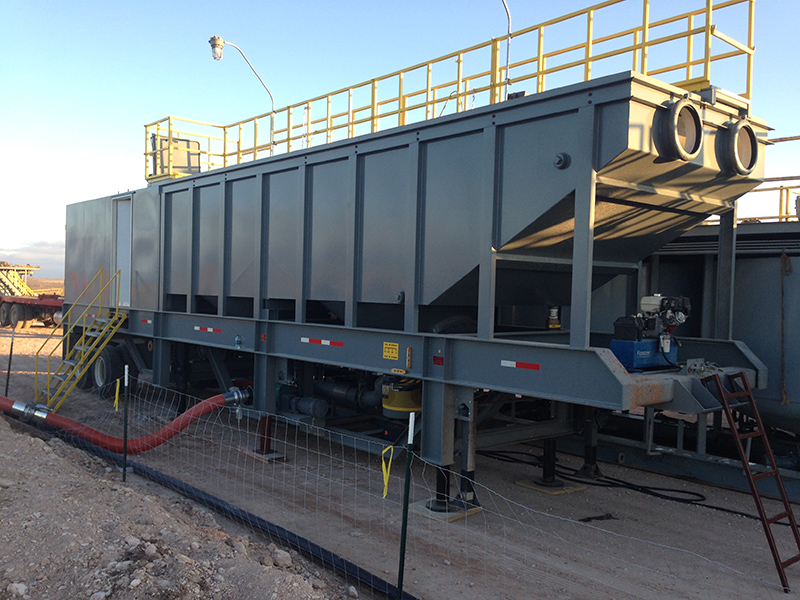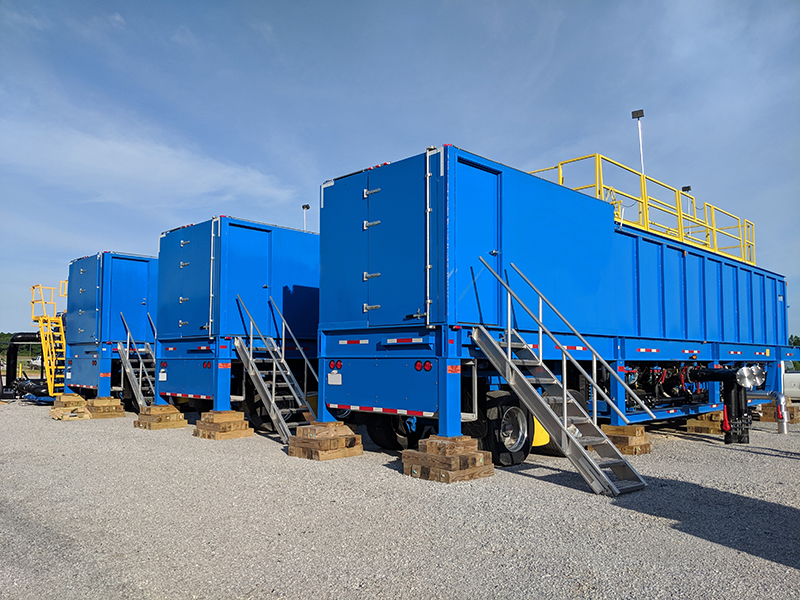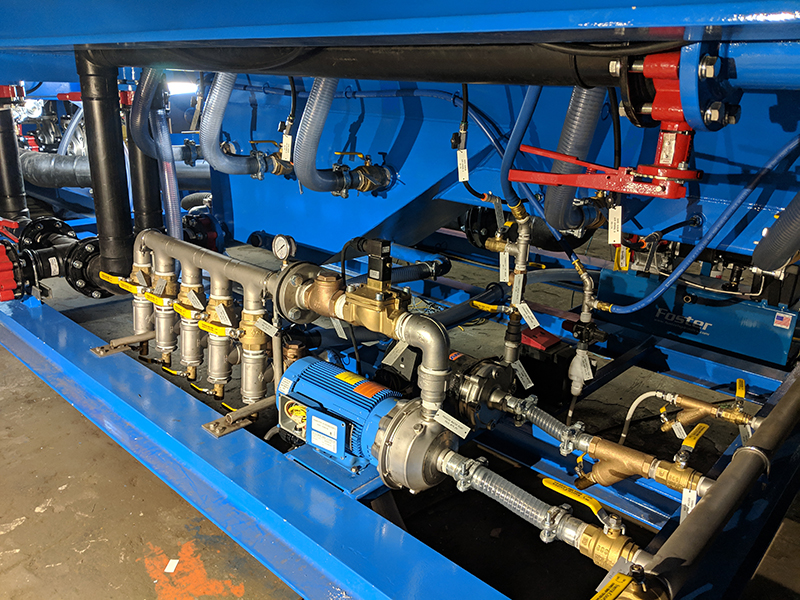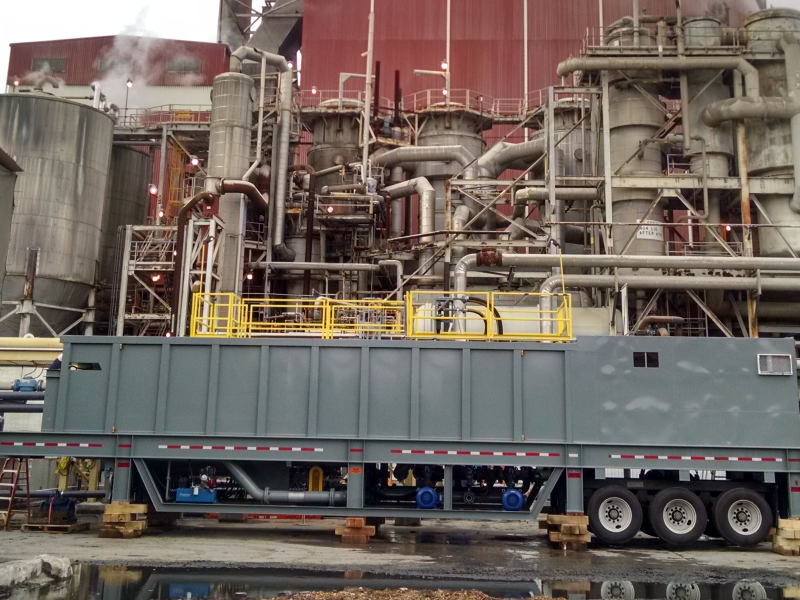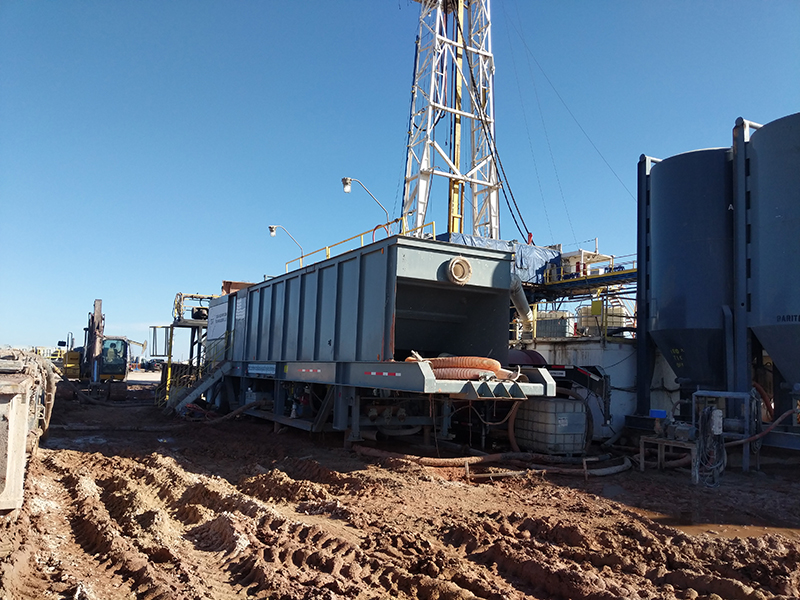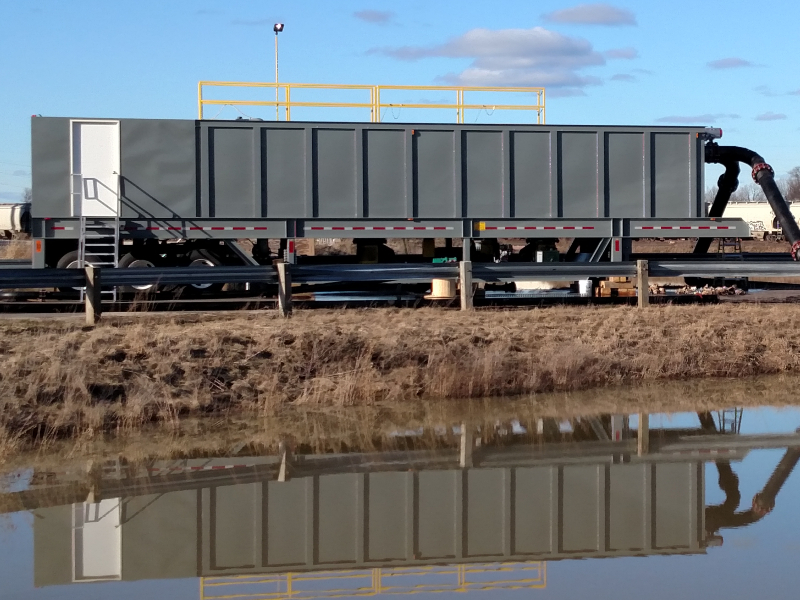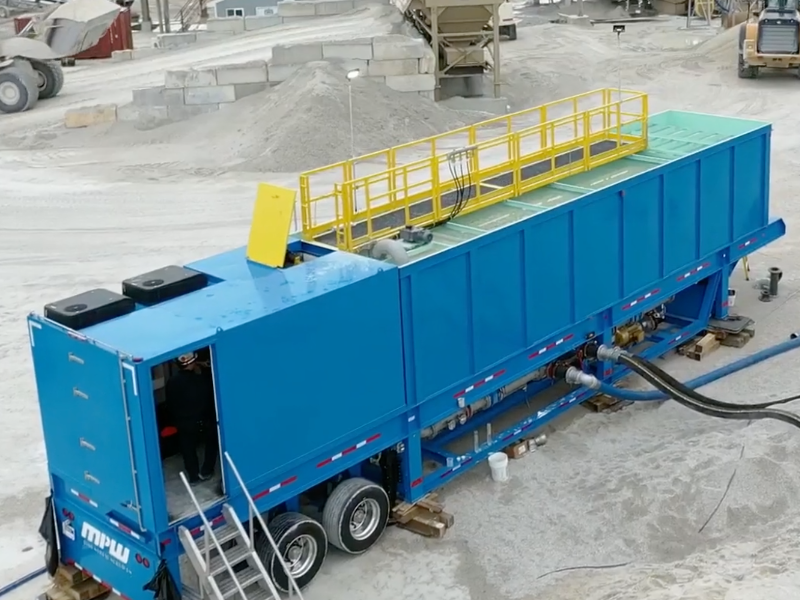 Clearwater's Fines Recovery Systems separates particles based on size and dewaters material to a stackable state. All systems are automatic with manual override and integrate with our clarifiers and chemical feed systems.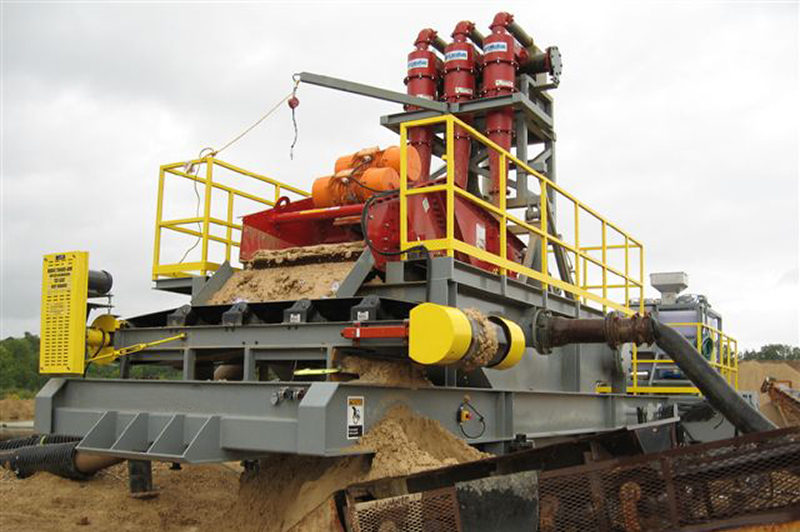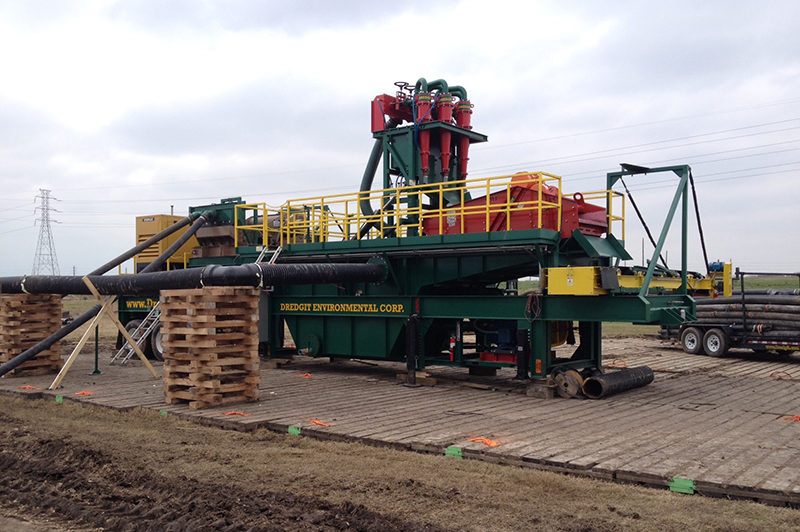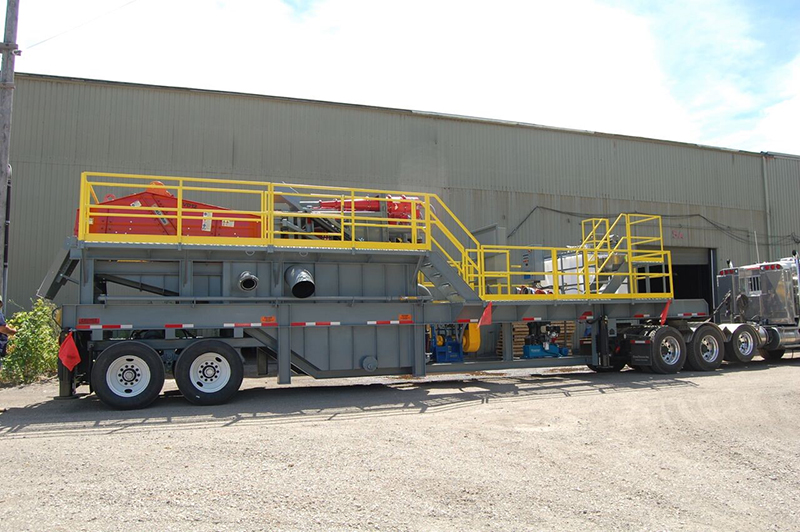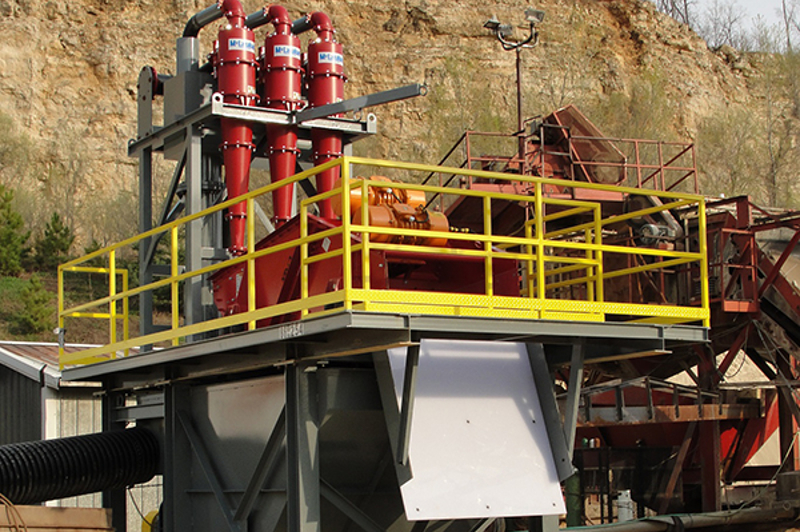 The AutoFloc Dosing System uses infrared light absorption to automate coagulant and flocculant dosing. Automated dosing reduces chemical consumption rates and improves process reliability. Unlike other systems that have to pull and analyze samples, the AutoFloc accounts for flocculation changes in real-time.
An infrared light absorption Centerwell Probe relays data to a touchscreen AutoFloc Messenger that uses 4-20 mA output signals to adjust dosing pumps.
The AutoFloc messenger features a touch screen interface for users to adjust the outputs sensitivity, probe air-sparging cleaning events, set alarm relays, and monitor real-time or historical data.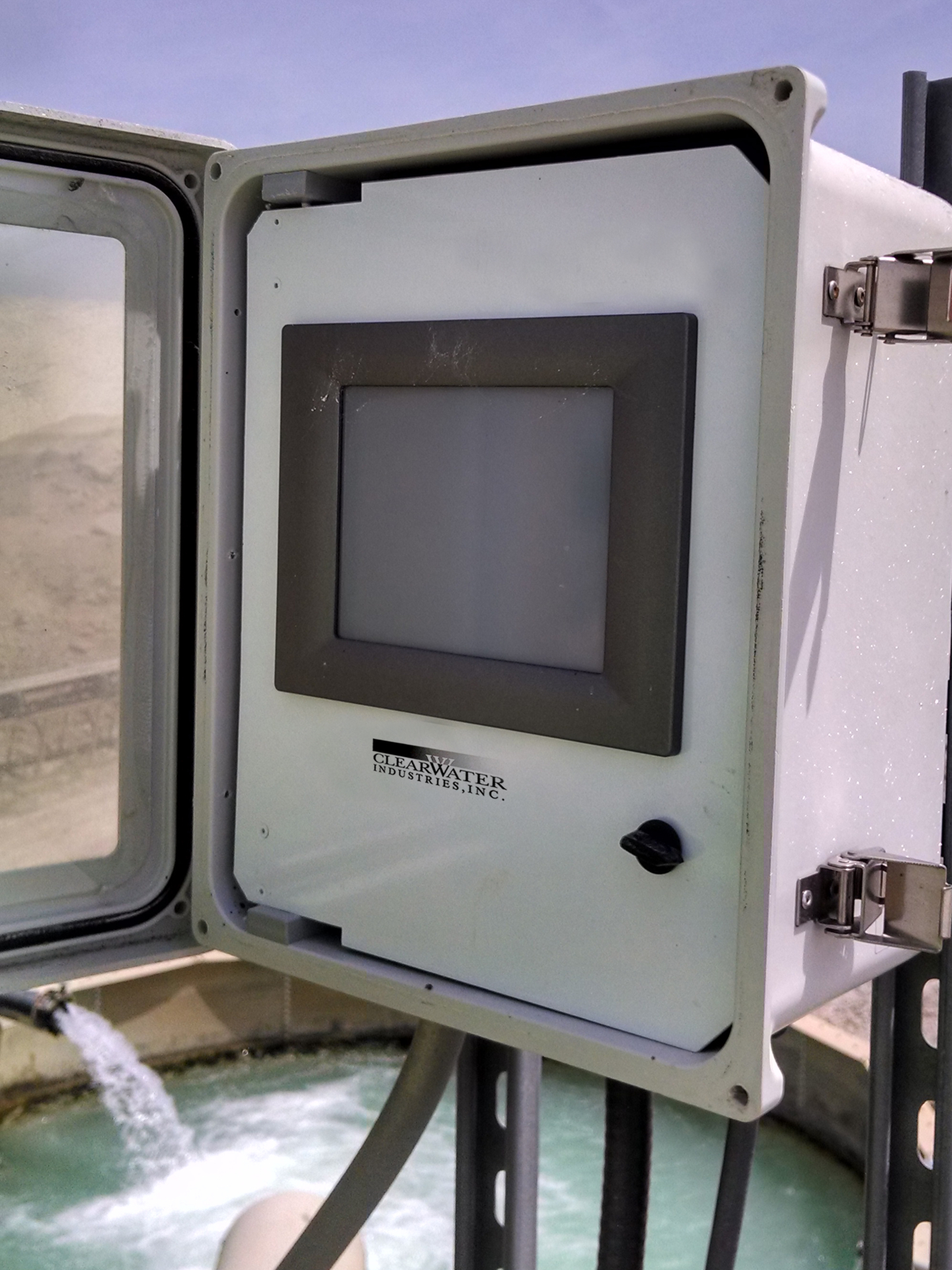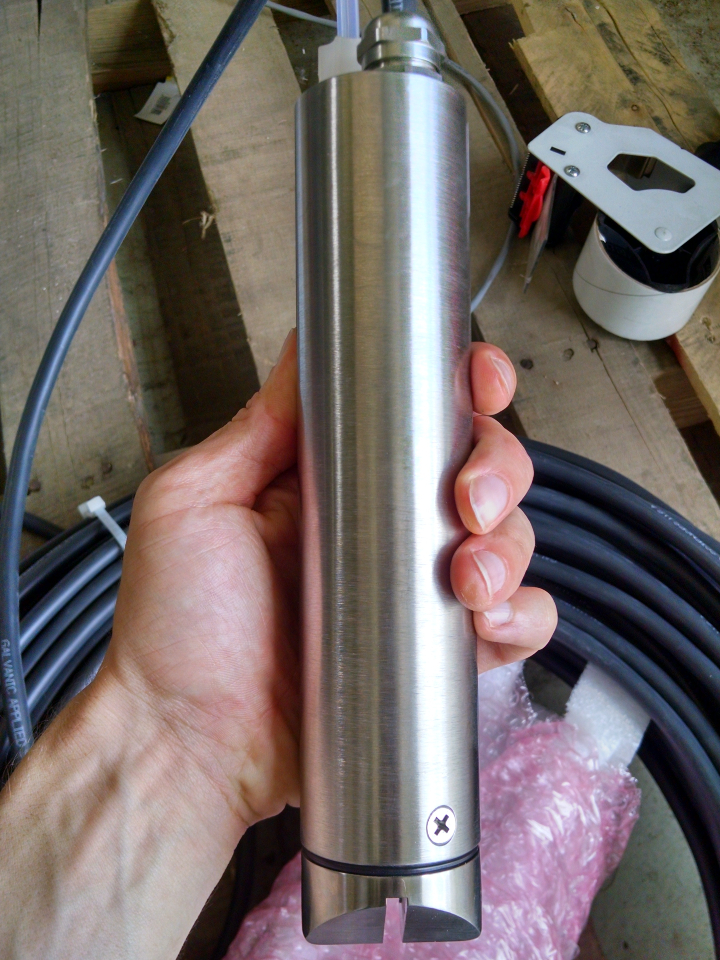 INDUSTRIES & APPLICATIONS
Aggregates & Quarries

Industrial Sand (Silica)

Mining & Coal

Stone Processing

Coal & Fly Ash Pond Remediation

Concrete & Hydrodemolition

Dredging Projects

Drilling & Tunneling

Stormwater
Heavy Metal Precipitation

Clarifier Bypass

RO Pretreatment

Pretreatment for Downstream Biological Treatment Systems

Oil, Petrochemicals, & Refineries

Tar Sand & Oil Sand

Energy Production

Pharmaceutical & Cosmetics

Textile Finishing and Dyeing

Tannery Production
Industrial & Commercial Laundries

Pulp & Paper Production

Meat & Poultry Processing

Fish & Crustacean Processing

Dairy Industry

Convenience Food

Fruit Processing

Vegetable Processing

Bakeries & Confectionaries

Brewing (Alcoholic & Non-Alcoholic Production)

Algae Removal & Desalination Pretreatment
Tell us about your challenges. Our team will contact you to discuss a tailored solution based on our experience.